X430AJ Compact Crawler Boom delivers outstanding horizontal reach and quiet, clean operation
18 March 2017
Machine uses eco-friendly Lithium-ion 2.0 power system
JLG Industries, Inc., an Oshkosh Corporation company and a leading global manufacturer of aerial work platforms and telehandlers, has expanded its line of Compact Crawler Booms with the X430AJ at CONEXPO 2017, Gold Lot booth #G3946.
"The JLG® X430AJ was designed with the customer in mind," said Paul Kreutzwiser, JLG Industries global category director, aerial work platforms. "It offers an outstanding horizontal reach of 6.58 m (21 feet 7 inches) and 226.796 kg (500-pound) unrestricted platform capacity, allowing operators access to a greater range of work areas."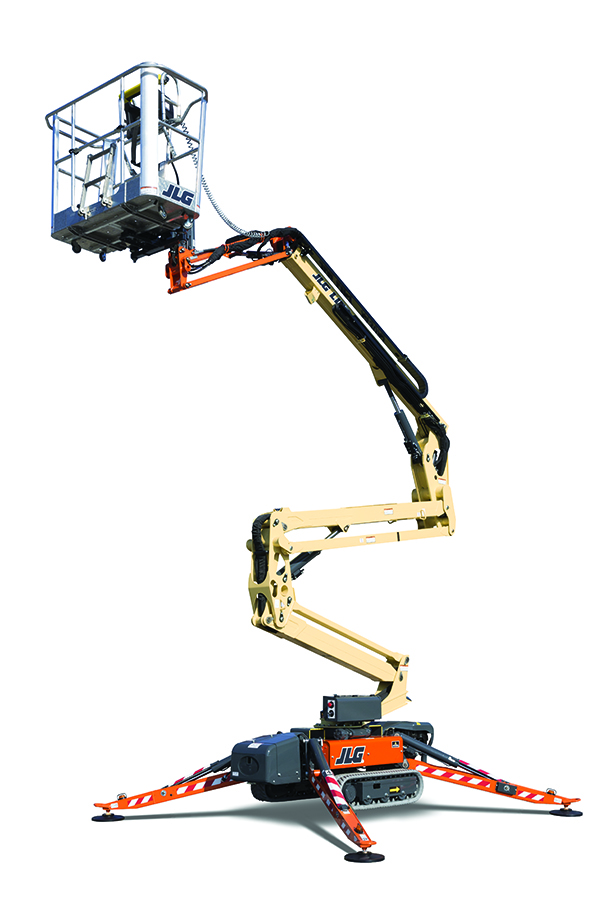 With a stowed width of 0.7366 m (2 feet 5 inches), the X430AJ easily moves through doorways, gates, and yards. Additionally, the new design can be transported by forklift or crane, thanks to its forklift pockets and lifting eyes.
The JLG X430AJ uses a Lithium-ion 2.0 power system for eco-friendly operation indoors or outdoors without sacrificing machine performance. As with other JLG Compact Crawler Booms, the machine features a tracked wheel carriage that climbs ramps, non-marking tracks for use on sensitive flooring and landscape applications, and versatile, auto-leveling outriggers for added stability when working on slopes or uneven ground. The design of the carriage permits climbs up to 40 percent, while a standard SkyGuard® enhanced control panel protection system increases operator confidence for improved productivity on the jobsite.
A JLG Compact Crawler Boom is a type of aerial work platform that enhances the productivity of the workforce allowing workers to go more places around a job site. With their ease of use, reliability and outstanding performance, compact crawler booms can be used in multiple industries such as commercial, retail, industrial market, including manufacturing and facilities management; and institutional such as hospitals, museums, schools and universities.