11 July 2022, 15:12
The American Rental Association claims that several factors and trends affecting the rental industry, such as hybrid job opportunities or digital services, indicate the growth potential of the market in the next few years. Patrik Eder, Editor at LECTURA, spoke to Josh Nickell, ARA Vice President, Equipment Segment, about the activities of the association, future events, launch of the RentalHQ Mobile App, the differences between the European and American rental sectors and predictions of the American rental market development.
PE: American Rental Association is a well-known and established subject in the US, however, our readers outside of the States may not be that familiar with it. Can you please introduce your association and highlight its main activities?
JN: The American Rental Association (ARA) is the largest international trade association for owners of equipment and event rental operations, as well as manufacturers and suppliers of rental items. As rental continues to evolve, ARA employees and members are working together to build a strong future for our industry. That includes education and training to develop employees and increase safety practices, supporting a sustainable workforce and career development, use of technology to increase operational performance and the ability to transform business data into actionable insights. Rental is more than a $65 billion industry in North America. It's a community of dedicated, hard-working people and together we define our future.
PE: Are there any upcoming events or conferences hosted by ARA?
JN: The ARA Show is the largest trade show for the rental industry, delivering value through education, networking and connecting buyers and sellers of equipment, services and supplies. The ARA will not hold a traditional 2022 ARA Show due to the proximity of its 2021 event, which was pushed from February to October. The ARA's annual convention and trade show will be held February 12-15, 2023, in Orlando, Florida.
PE: In September 2021, ARA launched the RentalHQ Mobile App. What are its benefits and features?
JN: The RentalHQ mobile app, developed by the American Rental Association (ARA), features easy-to-use search functions with fields for equipment type and location. Searches deliver a list of nearby ARA-member rental partners carrying the equipment — such as lifts and scaffolding, loaders, backhoes, dump trucks and mini excavators — with mapped location, contact information and a website link for each store.
With the new RentalHQ app, finding rental construction equipment can be done right from the jobsite. Whether working in town or traveling in the field, contractors can locate reliable rental partners in the area when equipment is needed now. The app functions seamlessly with Wi-Fi and data connection.
In addition to easy-to-use search function, app users can also view helpful articles and tips on equipment best practices with new topics being added often. 
PE: Do you see any differences in trends between the American and European rental market?
JN: One of the first differences many people notice between the ARA and ERA is terminology. The most common terms that differ between markets are hire vs. rental, plant vs. equipment, and cross hire vs. subrental. The European rental market is more fragmented than the American market. The differences in culture, language, and regulation are not as drastic between states in the U.S. as they are between the countries in Europe. This allows faster and easier geographic expansion for rental companies in most states across the U.S. There are more legal and regulatory differences between the U.S. and Canada which do make expansion between those borders more difficult. 
The general construction equipment rental store carrying a wide range of equipment including all three categories of small tools, large equipment, and access equipment is common in the North America. European rental companies are more likely to specialize in one of the three categories and subrent or cross hire for customers to satisfy the other two categories. Part of the reason for this is that Europe has more regulation on who is authorized to operate equipment, particularly drivable equipment which often requires an operator's license. In the U.S., operator's licenses are not common and only recently becoming part of the discussion. 
The focus on the environmental impact of construction equipment is growing in the United States, but the European markets tend to be more sensitive to environmental concerns. This trend is benefiting rental companies, because equipment rental assets produce less CO2 emissions over their life cycle than owned equipment. There are many similarities in types of equipment offered in both markets, but the American markets often support rental of larger items and more equipment suited to new commercial construction versus European markets that deal with less storage space, tighter working and delivery conditions, and a higher percentage of commercial remodeling.
PE: What is your forecast for the American (global) rental market in 2022? What can we expect in terms of market growth and innovations?
JN: ARA projects 4+ years of sustained growth in the equipment rental industry in North America. [See chart] This is fueled by several influences including government infrastructure spending, population redistribution from a job market with more remote and hybrid job opportunities, greater acceptance from younger generations with sharing and rental models, complexity of equipment, and the environmentally-friendly nature of rental. These trends increase overall demand for equipment as well as increased rental penetration (the percentage of equipment rented vs owned on a jobsite). This is part of a long-term multi-decade trend toward rental and away from ownership. Rental allows construction companies to focus on what they do best rather than deal with the hassles and complexities of asset management.
From an innovation standpoint, digitization has taken center stage over the last couple of years. We are seeing more contractors interacting with rental companies and renting from mobile devices. The long-term trends of electrification and miniaturization are continuing with some states like California enacting new legislation to increase adoption of electrified emission-free equipment even faster. Improved telematics and predictive analytics are also improving efficiency of use and improved maintenance. Lastly, driver assist, remote control, and autonomous functionality are in the early stages of impacting the industry with technologies like camera technology simulating transparent buckets to improve driver visibility, remote control allowing operators to control equipment from anywhere, and mini excavators that can assist the operator in digging the perfect trench.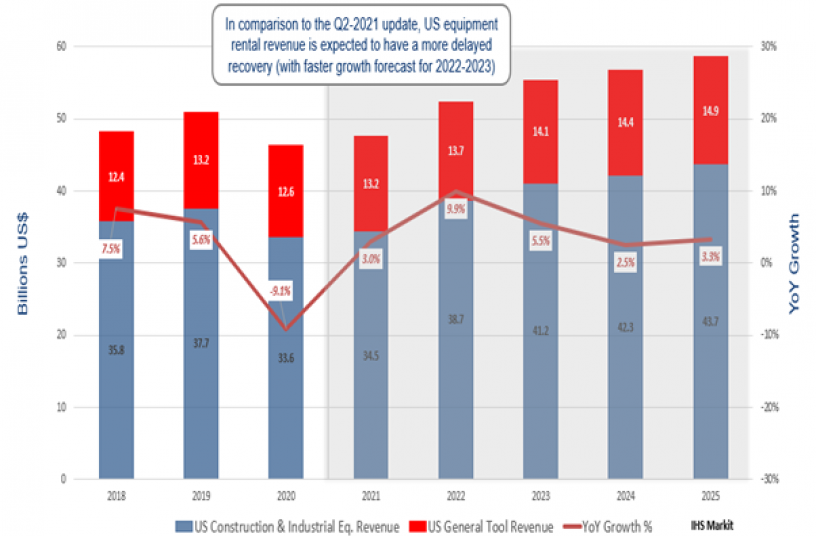 Source: LECTURA Verlag GmbH