11 July 2022, 11:29
The initial service life of special vehicles mounted on truck chassis is on average 10 years - the construction and installation of the superstructure is so cost-intensive in relation to the chassis alone that it simply takes longer for a machine to pay for itself than in standard segments such as tractor units. This initial holding period has even increased due to the well-known difficulties in supplying new machines and spare parts (see below), which means that machines from the years of manufacture 2000 to 2010 are currently coming onto the second-hand market. These are units from precisely those years that were dominated by singe copies and very small series, especially in the field of large platforms.
The evaluation of a used aerial work platform is more difficult than for other special equipment
Together with the fact that damage to platforms is often not recognisable at first glance and only has to be uncovered by a profound appraisal by proven experts, this can lead to thorough misjudgements when it comes to the purchase price. This is because there is a risk of horrendous repair costs if damage or defects are not immediately recognised and/or parts of the smallest series built at the time are no longer available and now have to be rebuilt as individual pieces. In addition, the documentation on the custom-made products built at that time is often very incomplete or even non-existent and the manufacturer sometimes no longer has the parts built at that time in stock.
The aerial work platform is interesting in many respects
So why is it so interesting to take a closer look at this segment? The market for aerial work platforms is relatively small compared to other chassis-mounted products such as skiploaders, hookloaders or loading cranes - at least in terms of total registrations. Why should we nevertheless take a closer look at this product? And why even the used ones that are so problematic? - Let's start with a general approach - and once again: we are talking about aerial work platforms that are mounted on truck chassis. Scissor lifts, self-propelled articulated and telescopic lifts, crawler lifts or lifts mounted on vans and pick-ups are excluded from this consideration.
Stable segment
The segment of truck-mounted aerial work platforms has been extremely stable in recent years and, despite the changed circumstances due to the pandemic, convinced with above-average growth and good earnings for manufacturers and dealers. In addition - due to developing areas of application - further above-average growth is expected for these special machines. In addition, they are extremely stable in value; six-figure sums can quickly be called up for a used platform. This is one of the reasons why they are so interesting.
Three categories
In the field of truck mounted platforms, three categories are distinguished:
Light: this category includes all combinations on two axles with a gross vehicle weight of up to 3.5 t and a working height of up to 30 m.

Medium: here the combinations on two-axle chassis with a GVW of 3.5 t to 18 t and a working height of up to 50 m are grouped together.

Heavy: these are combinations on chassis with more than 2 axles, 18 t to partly 60 t GVW and with a working height of partly more than 100 m.
Whereas in the segment up to 3.5 t GVW a wide variety of manufacturers are active with a wide variety of technology, in the segment above 18 t there are basically only three manufacturers left in Europe who produce significant numbers of units.
The aerial work platform is used in many segments
The areas of application are manifold, which makes the aerial work platform so versatile. The following main segments are served:
- Construction
- Forestry
- Cities and municipalities
- Infrastructure
The large platform segment is mainly dominated by the latter, where long-term contracts are awarded in the wind energy, telecommunications and maintenance sectors.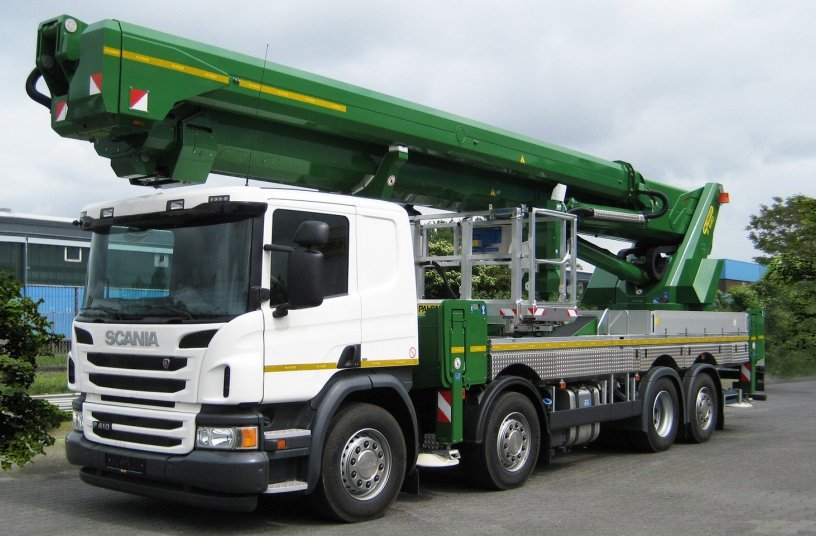 Safety requirements demand special measures
In all areas, safety and correct operation play a major role: special instruction and expert operation are indispensable prerequisites for safe operation, which is why individual manufacturers have already thought about models to ensure this prerequisite for every use. Online instructions with special QR codes are being discussed here, as are other smart digital "keys". Such new approaches could also reduce the handover time to the customer and provide simple proof that the equipment has been properly handed over - two other key issues for manufacturers and rental companies.
The customer structure is twofold
Common to all categories is the very heterogeneous customer structure: On the one hand, there are numerous individual entrepreneurs who use only a few platforms exclusively for their own operations (electrical installations, tree pruning, building services). On the other hand, platforms in the two higher categories are used almost exclusively by a few large customers (highly specialised companies or rentals). These buy large volumes every year and are active across countries, with the platform constantly changing its area of use. In the large platform sector, this leads to customers sending their platform within Europe and even as far as North America for the respective assignments.
Takeovers among rental companies and manufacturers on the rise
In order to be able to serve all markets as well as possible, an increasing willingness at the rental sector to take over has been observed for several years: in recent years, many large, internationally active rental companies have begun to integrate smaller ones into their network or take over their business. Good examples of such expansion strategies are Mateco (D), Kiloutou (F), Loxam (UK&F), but there were also rental companies, e.g. Collé (NL), that started to expand their network outside their own country with their own branches. This trend is still continuing, but whether consolidation will take place in the end cannot be assessed at present.
But more and more access platform manufacturers are also entering into cooperations and takeovers with other access platform manufacturers across Europe. The aim here is to further expand the product portfolio and to be able to provide answers in as many segments and weight categories as possible. Ruthmann's cooperations with various manufacturers, or Palfinger with a joint venture founded in 2013 are only two examples, and just last year France Elévateur took over Talleres Velilla (Movex), a Spanish manufacturer, in order to bundle resources in purchasing and development and ultimately gain better access to the market. Thus, the acquisitions of the last few years have always had the goal of improving the company's own position in undermanned markets.
Major growth through developments in renewable energies and real estate
If you look at the developments in these areas, it quickly becomes clear where the growth of 3 - 5% comes from, which according to experts can be expected in the area of truck-mounted aerial work platforms in the next five years: In addition to the changeover from 4G to 5G in mobile communications technology, which will take years and require permanent work on mobile phone masts, the energy transition will also require new, long-lasting projects. On the one hand, the ever and currently difficult availability of gas, on the other hand, the climate targets will lead to the increased expansion of wind energy, which will ensure the long-term use of aerial work platforms. After all, it is not only a question of building new turbines, but also of maintaining the parks that already exist today and then building new ones. This development could pick up speed if the new plans to make 2% of the country's land available for wind turbines, to revise the distance rules, to introduce a solar obligation on new buildings and to finance the EEG levy through the state budget are implemented. These are plans for Germany, but to the same extent other countries will have to think about and take action to achieve climate protection goals. 
The increasing demand for properties worldwide will continue to be a major contributor to growth in the platform sector, as in addition to new construction, the use of aerial work platforms is considered essential for maintenance work. The need for improvements, maintenance and preservation of existing properties in the residential sector continues to drive demand.
Although no extraordinary growth is expected in the forestry industry, experts estimate demand to be very stable. Fluctuations or even extreme price pressure due to globalisation, as in the construction industry, transport and logistics, are not expected by customers. It is not yet possible to say to what extent electrification will influence the market and purchasing behaviour in the next few years. It is possible that the public procurement segment will play a leading role here.
The technical further development of the platform enables even more fields of application
In addition to the overall increase in demand, there is also technical progress in the field of aerial work platforms: increased performance data, cage sizes, loads and shorter reaction times mean that other, traditional applications are being displaced. Where scaffolding used to be applied, the more flexible, space-saving aerial work platform is now being used more and more often. In addition to the market developments that require more and more access platforms, the platform is also creating new areas of application for itself as a result of its own progress.
Service coverage can become a success factor
While Germany has proven to be one of the most lucrative markets for aerial working platform sales in Europe in recent years - it is predicted that the market for platforms in Germany will grow by 5 - 8% over the next few years - the manufacturer that offers the best service coverage in the country is the one that succeeds - and this is less about coverage in the country than about technical know-how and quality of service. These are decisive for the success of the brand in the respective country. There are many examples of this in Europe, and this is also the reason why one or the other manufacturer - with a similar product range - is sometimes so successful. A big brand and a corresponding range of models are no guarantee for market penetration - the service and the people behind it are decisive.
Huge potentials lie unused in the handling of used machines
This circumstance could prove to be all the more important if, as a consequence of the growth, the used machinery business now also comes into the focus of the manufacturers. In recent years, none of the leading manufacturers has been able to sustainably exploit and develop the "used" business. The pandemic has also ensured that the supply of used machines is at an all-time low due to the extended delivery times for new machines and fundamental supply problems in the spare parts business as well: on the one hand, the initial holding period of the machines is increasing due to the lack of available new machines, on the other hand, supply bottlenecks mean that where a used machine is available, it can be sold quickly - if it does not have to work against the supply bottlenecks as a manufacturer's own rental machine or be used as a workshop bridging machine. Strategies or professional used machine management are hardly necessary here at present. However, with the upcoming growth and the normalisation of the supply chains, this topic should find its way into the development plans of the manufacturers.
Numerous examples in the car, truck and also agricultural machinery sectors show how important and lucrative the professional management of the used machinery business is. In some cases, the margins exceed those of new vehicles by far. It is therefore advisable right now to deal with the strategic orientation and professional portfolio management of the used fleet. In the future, it will no longer be enough to market the machines that are returning after the approximately 10-year initial holding period. Strategies are needed to generate young used machines as well and to be a reliable partner to the customer in this area as well - especially with the knowledge that the material that is now coming back at short notice is more likely to be problematic (see beginning of article). Now it will be especially necessary to have a good mix of young second-hand and difficult one-offs from 2000 to 2010 on the yard in order to be able to quickly compensate for any mispricing in the purchase price. Above all, when electrification arrives in the field of aerial work platforms, targeted measures such as closed buy-backs or similar must be taken to ensure that incalculable risks due to the new type of drive and the associated as yet unknown wear and tear are excluded as far as possible.
Entry into price-sensitive markets can succeed through intelligent use of second-hand equipment
Even more than in other sectors, it is also important in the area of high-priced aerial work platforms to make it possible for all customers to enter the large segments as well. Experience shows that especially in the case of platforms with high working heights, the first machine is often a second-hand one. One strategy could be to conquer new, more price-sensitive markets through second-hand machines. For this purpose, it can make sense to equip the new machines with certain options that are indispensable in the target market. Coupled with a reliable service concept, professional second-hand machinery management can now decide between success and failure.
Conclusion
In summary, it can be said that the success of platform manufacturers no longer depends (only) on a good range of new equipment. Intelligent handling of the used equipment from the configuration of the new, coupled with professional portfolio management and a good service offer can be decisive factors in the race for increasing market opportunities.
Source: LECTURA Verlag GmbH