Better, Faster and Safer to your Destination with Tunnelling Expertise
27 March 2017
Many years of international experience in producing quality concrete under the toughest conditions has made SBM the ideal partner when tackling complicated conditions in tunnel construction. This is proven by the Austrian expert's during the impressive development of the Slovak highway D3 in the Zilina region with SBM's super mobile concrete mixing plant EUROMIX® 3300.
It takes absolute professionals to master the challenges of tunnel construction. The requirements are much more demanding than those of standard road construction; particularly the very difficult situations frequently faced in concrete production. In spite of problematic geological conditions and high seasonal temperature fluctuations, the concrete mixing plants have to assure trouble-free concrete production around the clock while constantly delivering excellent concrete quality just in time throughout the year. In addition to mastering these difficult production conditions, the concrete produced for tunnel construction must be of the highest quality to assure operational safety in case of fires while also resisting significant temperature variations or salt in winter.
Experience Makes the Difference
The crucial construction sections of the large-scale D3 project are three bridges and one tunnel leading through an extremely challenging region with carpathian flysch. Building the two tunnel tubes presented a very demanding geological challenge.
For this reason the investor relied on proven Austrian engineering and contracting expertise; NÖT(New Austrian Tunnel Construction Method) developed in the 1950s is applied. This internationally renowned method uses the inherent bearing capacity of the mountains which results in considerably lower construction costs in comparison to standard building methods. The development of the D3 highway was planned in accordance with the specifications of FIDIC, the construction management was carried out according to ÖNorm B2203.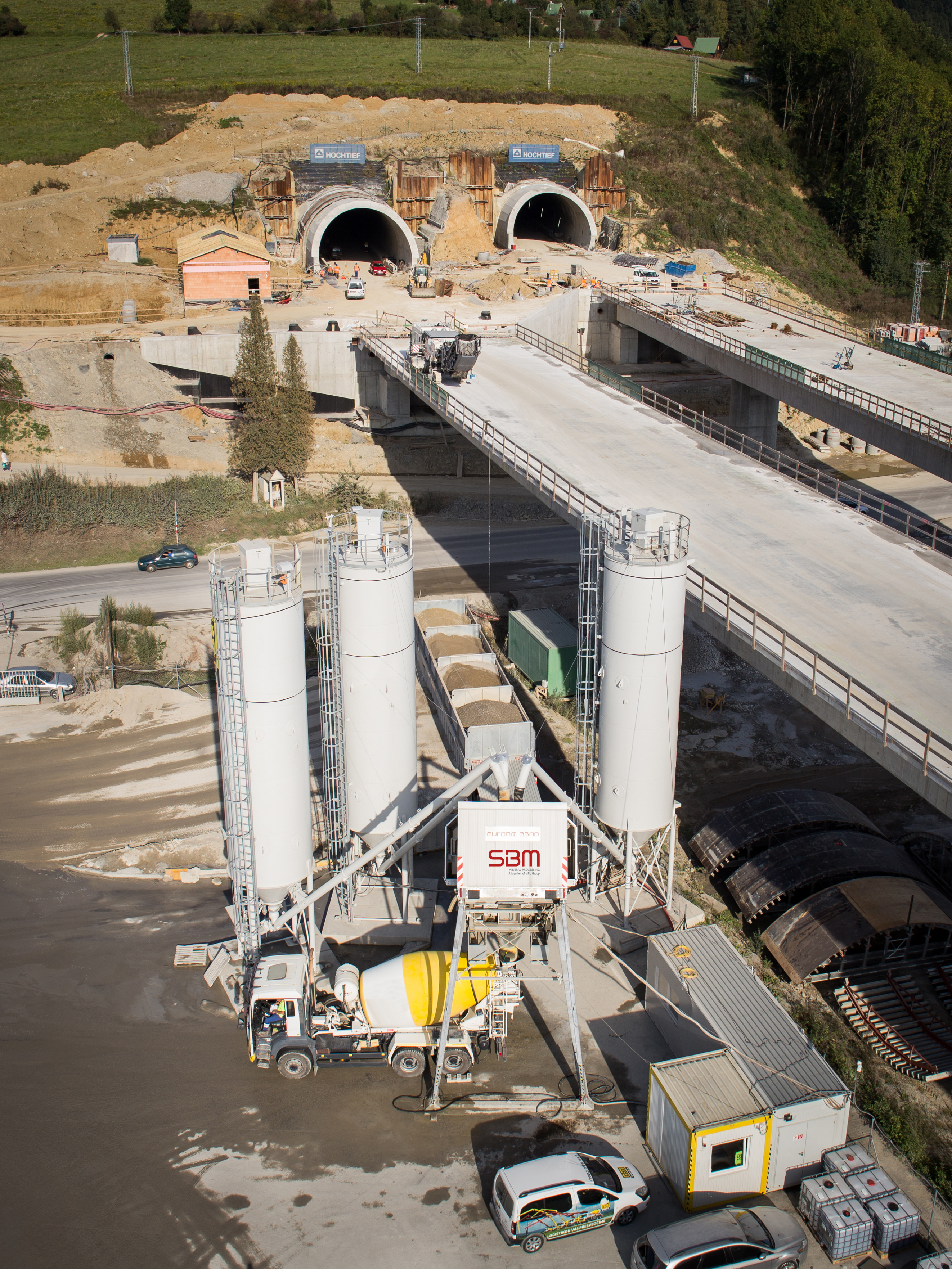 Quality Lead
To produce superior-quality concrete for walls and driving lanes for the two tunnel tubes, the concrete producing company RBR Betón, s. r. o. chose the super mobile concrete mixing plant EUROMIX® 3300 SM 84 L made by SBM.
"In the face of the extremely challenging demands of the development of D3 we had to find a competent and reliable partner with vast know-how in tunnel construction. For this reason we decided to choose the super mobile concrete mixing plant EUROMIX® 3300 SM 84 L made by SBM for this project," confirmed Stanislav Raab, owner of the company RBR Betón, s. r. o.
The plant's most distinguishing feature is its elaborate system concept that perfectly synchronises concrete logistics and production, ensuring consistent production performance throughout the entire operation because of its independent supply of concrete ingredients. Due to reduced vehicle traffic and reduced Co2 -emissions, EUROMIX® 3300 proved itself as a very profitable and eco-friendly plant.