Bobcat's E55 compact excavator provides class-leading performance
20 March 2017
Joining the Bobcat® M-Series line this spring is the E55 Conventional Tail Swing compact excavator. The E55 has an operating weight of 11,952 pounds, an overall width of 77.2 inches and is powered by a 48.8 horsepower turbocharged diesel engine that is interim Tier 4 compliant. The unit's 13.4 inches of tail overhang helps it deliver exceptional lift capacity and slew performance in the most demanding applications.
The E55 is standard equipped with a TOPS/ROPS certified cab, including full climate control (HVAC), and a deluxe high-back cloth suspension seat with retractable seat belt. Additional amenities in the "radio ready" cab include 12V power port, adjustable armrests, lockable toolbox and a convenient beverage holder.
Within the operator's area, the E55 features convenient "finger-tip" control for boom swing and auxiliary hydraulics functions. Large travel pedals fold up to provide more floor space while flush-mounted floor mats make cleanup easier. A keyless start system that discourages theft and vandalism is available as an option.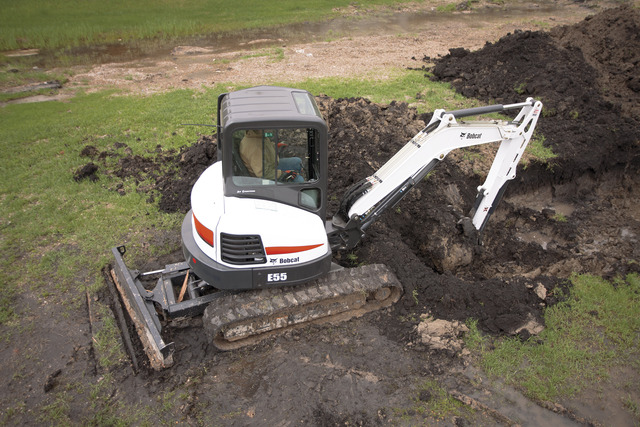 The E55 comes with an Auto-Idle feature which, if activated by the operator, automatically returns the engine to idle if excavator functions are not used for a period of four seconds, saving fuel and reducing jobsite noise. The engine automatically returns to the preset throttle position as soon as the operator starts working again. For precise engine speed adjustments, a new easy-to-use rotary knob has been added to the controls.
As with all other M-Series compact excavators, a load-sensing piston pump and closed center valve system provide precise control of the machines travel and work-group functions. The E55's hydraulic system delivers exceptional "loaded" cycle times and an impressive 9442 ft.-lb. of bucket breakout force for class leading productivity. Work-group cylinders offer end-of-stroke cushioning for smooth operation.
An automatic, integrated slew brake hold loads still and steady on slopes for more accurate placement. The need for the operator to manually engage the slew brakes during transport is eliminated, making it easier to load and position the machine for transport.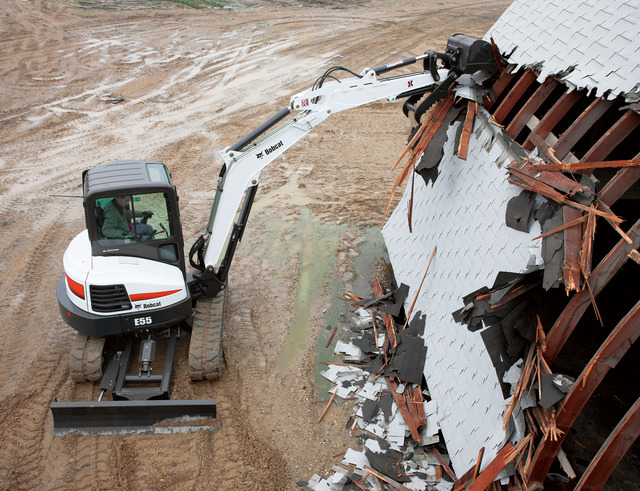 Like all Bobcat M-Series compact excavators, the E55 features an X-frame undercarriage that provides impressive ground clearance and readily sheds debris for reduced cleanup time. Drive motor covers are inset within the motor wrap-arounds to protect them from potential damage. Integrated into the undercarriage, convenient tie down points simplify trailer loading for transport.
In addition, Bobcat's exclusive in-track swing frame keeps the swing castings and cylinders within the width of the tracks when digging in an offset position, helping the operator dig flush against an obstacle. This feature minimizes the chance of inadvertent contact with surrounding obstacles, ultimately reducing operating costs of repair to the machine or adjacent structure.
Other popular options for the E55 include "pad-ready" steel tracks, rubber street pads, a hydraulic angle blade, second auxiliary hydraulics, hydraulic clamp and Hydraulic X-Change attachment mounting systems for quickly switching between the 16 attachments approved for use on the machine.