18 July 2022, 15:48
Of the total 52,644 replies received in LECTURA online survey from 8th September to 15th November 2021, Volvo received 1,566 reviews from 118 countries from all around the world. Most replies were received from the United States, followed by the United Kingdom in second place and Sweden, the country of origin.
1 How do you consider this brand to be in general?
 
Volvo received one of the best ratings in the survey. With a mean value of 3.7 on a scale from 1 as the basic level to 5 as the premium level, making it the 21st best-reviewed brand of the whole survey and the 9th best brand among construction brands. 
Speaking for the brand quality classes, 55.7% of people consider Volvo as the premium brand. With a big difference, 23.8% considers Volvo being a brand of medium quality and only a fifth of people admitted their so-far experience with Volvo brand, in general, being better negative considering Volvo to be a brand of basic quality.
No considerable differences in distribution were found on the level of individual regions. All over the world, from 53% to almost 65% people opened up about their positive experience with Volvo confirming it to be the brand of premium quality. Surprisingly, the best rating was provided by people from Oceania countries, but this could result from the relatively small representation of the Australians and people from nearby countries compared to other regions. 
In general, the results on the country level indicate the country of origin does not necessarily mean people prefer the brand. Though originally a Swedish brand, the Italians, the Hungarians and the Ukrainians (speaking for Europe) rate Volvo much better. In the rest of the world, Volvo is of high popularity mostly among people from North-West African countries.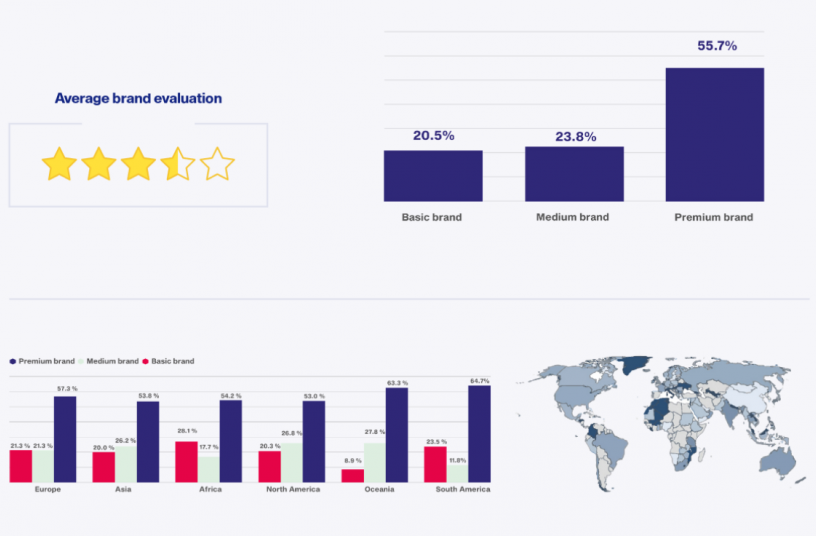 2. How would you rate this brand's dealership network in your country?
 
As the brand perception is mostly driven by an experience with not only products but also related services and dealership network, it is no surprise Volvo received a very satisfying rating in dealership network evaluation. On a scale from 1 as very unsatisfactory to 6 as very satisfactory, the mean value was 5.13 - on the total rank of the brands of this survey, Volvo was considered to be the brand with 14. best dealership network - among construction brands only, the 6th one. 
The results for individual levels show that 91.7% of people consider Volvo´s dealership network better satisfactory - 47.4% even very satisfactory. On the contrary, only 8.3% consider Volvo dealer dealership network unsatisfactory - compared to 47.4% for very satisfactory, there are only 2.6% of replies stating Volvo´s dealership to be very unsatisfactory.
As the map of dealership network levels for each country shows, the countries where the dealership network is rated very satisfactory match with such a high general brand rating. Therefore, we assume the brand evaluation and its image in general is of the most the result of dealers´services, their portfolio and accessibility. In this survey, excellent results are received in Italy, Hungary and Switzerland. Outside Europe, North-West African countries as well as MEA countries appear to dispose of excelend Volvo dealerships. 
3. Where do you mostly look for information about this brand and its products/services?
 
When searching for information about Volvo, the very first option that comes to mind to the vast majority of people is the official website - in the survey almost 50% of respondents spoke for its good and clear content providing all necessary information. Also, equipment specs portals or encyclopaedia dispose of Volvo-related high - quality content putting these channels on the second place of the rank. 
Specialized media and network of contact, however, still represent the very first choice when searching for information about Volvo for about 30%.
4. Which one? (Specialized media + Equipment specs portals/encyclopaedias)
 
In the previous question, 20.2% of surveyees claimed to prefer equipment specs portals and encyclopaedias prior to any other source. Asking for a specific portal, LECTURA was mentioned by more than 70% - simply by about 8 from 10 people. We are happy with this finding that supports the fact that our audience of LECTURA Specs has grown by 50% in the last two years and the Buyers Guide is currently visited by more than 1 million users per month.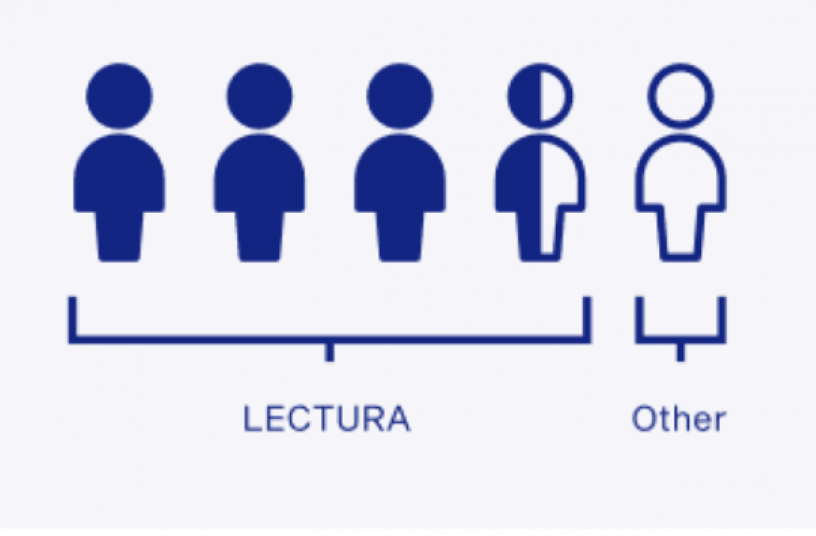 5. How do you consider this brand to be visible in the media?
 
To attract the people and make them perceive all the benefits the brand offers, the brand representatives should take into account the necessity of clear and understandable communication. Since mostly due to globalization the word-of-mouth is suppressed by modern ways of media (especially online). In the case of Volvo, on a global level the media visibility is as well as the dealership above-average.
40% of all surveyees have been frequently seeing Volvo-related content in various kinds of specialized media. A fourth frequently spots such content in at least just one of specialized media and about 18% at least sporadically. Yet, Volvo still lacks to identify how to communicate its content to about 17% of people.
Source: LECTURA Verlag GmbH