10 January 2022, 17:00
Heavy machinery sales have significantly shifted online as digital and remote transactions have become the preferred channel for buyers, according to new research by ExpoPlatform and LECTURA. Check the full report right now!
The research was carried out on the LECTURA Specs website, an ultimate buyers guide that is visited by over 1 million professionals each month.

A survey of 25,000 buyers reveals how important online has become to markets which have traditionally valued buying through face-to-face interactions.

The findings show high levels of spending has moved online for industries such as construction, agriculture, materials handling and transportation.

While in-person interactions remain popular, the convenience of digital self-service ecommerce and remote contact with sales teams have now taken the lead.

More than two-thirds (67%) of materials handling buyers preferred to purchase heavy machinery through digital channels, the survey shows.

This is 62% for the transport sector, 56% for construction and 46% for agriculture.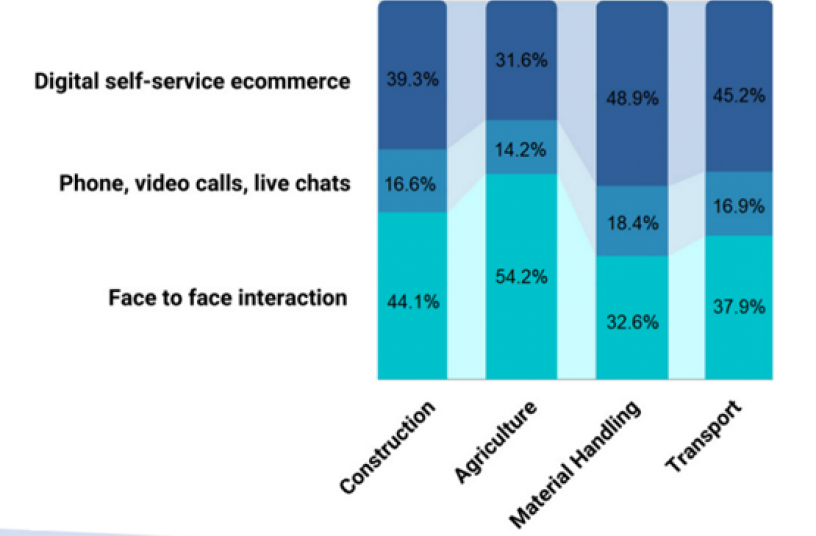 The survey also highlights that 75% of those buying through digital channels were willing to spend more than $10,000 entirely online.

While in-person events are still considered to be the most effective ways of discovering new products, this was followed closely by online product reviews and video demonstrations.
Luke Bilton, Chief Growth Officer at ExpoPlatform, said: "Buying and selling rapidly moved online through the Covid-19 pandemic.
"Two years since it began, we wanted to understand the impact in B2B industries. While the research highlights that demand for in-person events remains high in these markets, the level of comfort with entirely digital transactions is surprising for industries which are usually considered to be fairly conservative."
Petr Thiel, CEO of LECTURA, added: "We have seen an increasing trend towards digital marketplaces being widely accepted in heavy machinery sectors. Even though traditional marketplaces connecting buyers and sellers have existed for many years, there is no doubt about the ongoing shift to a new type of market places with full-transaction models. Such platforms are smart software solutions for dealers, designed for direct machinery sale and enabling online payment in process."

"The pandemic has unpredictably changed the business environment as many on-site events and tradeshows had to be cancelled or changed for online sessions and webinars, further digitalizing the heavy machinery industry. This latest survey confirms how digital is transforming buyer behaviour to an omnichannel future."
The technology provider helps the world's largest exhibition organisers to digitally transform their businesses - including Informa, Clarion, Reed Exhibitions and Comexposium.
It has recently earned recognition from the UFI Digital Innovation Award 2021, Event Technology Awards, Digital Event Awards as well as the Virtual and Hybrid Event Awards 2021.
LECTURA is a leading provider of machinery intelligence on the market and attracts around 1,000,000 professionals every month, sourcing all kinds of heavy machinery data.
Its database contains over 160,000 heavy machinery models and provides evaluations of used machines through online tools and digital solutions.
The provider's service offer also includes technical specifications and data enrichment, product and market analyses, high-value lines, country-specific price development determinations and a variety of client-tailored solutions.
Source: LECTURA Verlag GmbH; ExpoPlatform