In-Booth Education - Earthmoving Scraper Hydraulic & Electrical Functionality
10 March 2017
Every hour, on the hour, in booth #G2816, view the K-Tec 1233ADT Train scrapers operate effortlessly with use of the Volvo A40G-FS Articulated Dump Truck controls. March 7th, 8th, 9th, 10th, 11th at 9AM, 10AM, 11AM, 12PM, 1PM, 2PM, 3PM, 4PM, 5PM
Use K-Tec scraper technology to enhance earthmoving operations. K-Tec scraper features fast hydraulics and joystick scraper control, allowing for enhanced precision grading and dumping. The operator is able to use Electronic Load Sense technology to control scraper functionality inside the Articulated Dump Truck (ADT). A digital display screen interface exclusive to K-Tec is also included in the cab for visual operating details, tracking load count productivity, and troubleshoot serviceability.
Learning objectives for attendees include: 1) Watching the high-capacity scraper hydraulically function cylinders of the gate open/close, ejector forward/back, and bowl raise/lower. 2) Climbing aboard the scraper and investigating hydraulic/electrical hook-ups, as well as sitting in the cab to view joystick control and digital display screen telematics. 3) Watching video footage of scrapers moving material in real-life applications in K-Tec's Earthmoving Education Lounge and apply knowledge to your own jobsite.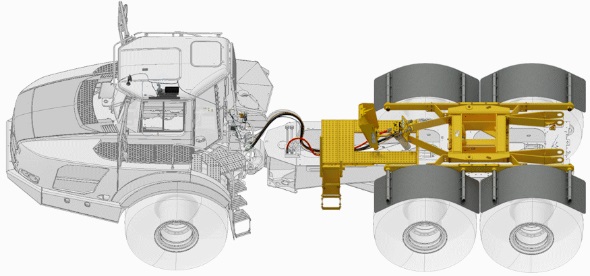 The K-Tec Articulated Dump Truck Hitch is an intricate system of steel, hydraulic, and electrical assemblies. The intelligent programming and in-cab comforts will improve operator performance. It is important to note that all hitch modifications are 100% reversible, as no permanent modifications are made to the ADT. A full breakdown of the K-Tec ADT Hitch system is as follows:
ADT Conversion
- Custom Bracketry to fit the specific Articulated Dump Truck Model
- Hitch Box with receiver plate and locking pin
- Hydraulic Bulkhead protection structure
- Hydraulic Filters to prevent cross-contamination between scraper & truck
- Hydraulic Valve, Couplers, Hoses to connect the scraper to the truck
- Electronic Wiring Harnesses to connect the scraper to the truck cab
- Computer Controller including pre-programmed system software
- Padded Armrest & Joystick Control
- LCD Display Screen featuring Electronic Load Sense including: hydraulic PSI indicators, automatic eject settings, load count tracker, hours meter & troubleshooting diagnostics tool
- Complete On-Site set-up of system by a trained K-Tec Service Technician
- On-Site operator training session by a K-Tec Product Specialist
- Fender System to protect truck from material flinging from tires (OPTIONAL)
- Truck Chassis Catwalk System for easy access steps and platform for maintenance on hydraulic system (OPTIONAL)
New K-Tec Mobile App Launch
K-Tec Earthmovers Inc. are pleased to announce that K-Tec now has a Mobile Smartphone App. Features include an Image & Video Gallery, News & Social Media content, Dealer Locator, as well as our Cost Analysis tool for comparing dirt moving efficiencies.