John Deere lawnmower range for 2017
24 March 2017
John Deere lawn care equipment is engineered to combine outstanding performance and reliability with ease of use, comfort and control. The extensive range means there is a John Deere to suit every garden or area of grass, whatever its size, shape or type.
Lawn tractors
With 17 different models and a wide range of sizes and features, John Deere lawn tractors offer the ultimate experience in grass maintenance.
The X350R lawn tractor features a 107cm (42in) rear discharge heavy duty mower deck, designed to allow a clean flow of grass cuttings for excellent cut quality even in normally difficult long grass. Simple to operate, with a modern car-style instrument display and a dial to adjust the height of cut from 25 to 102mm (1 to 4in), the X350R is suitable for areas of grass up to 8000m2 (about 2 acres). Its powerful Kawasaki petrol engine gets the job done quickly but without sacrificing fuel economy. The high capacity 300-litre collector means faster work with fewer stops to empty the clippings. The mower is supplied with a mulching kit which adds to the machine's versatility. A deluxe seat and cruise control ensure a comfortable ride for the operator. Price £5305 incl VAT.
Zero-turn mowers
Ztrak mowers deliver on-the-spot turning, using easy to operate control levers and fast efficient mowing. This means there is no obstacle this machine cannot easily and quickly manoeuvre around, saving time and effort. With a choice of 107 and 122cm (42 and 48in) cutting widths, the Accel Deep mower decks provide high levels of cut quality and finish, as well as greater productivity, durability and versatility. Prices start at £4075 incl VAT for the Z335E with 42in deck.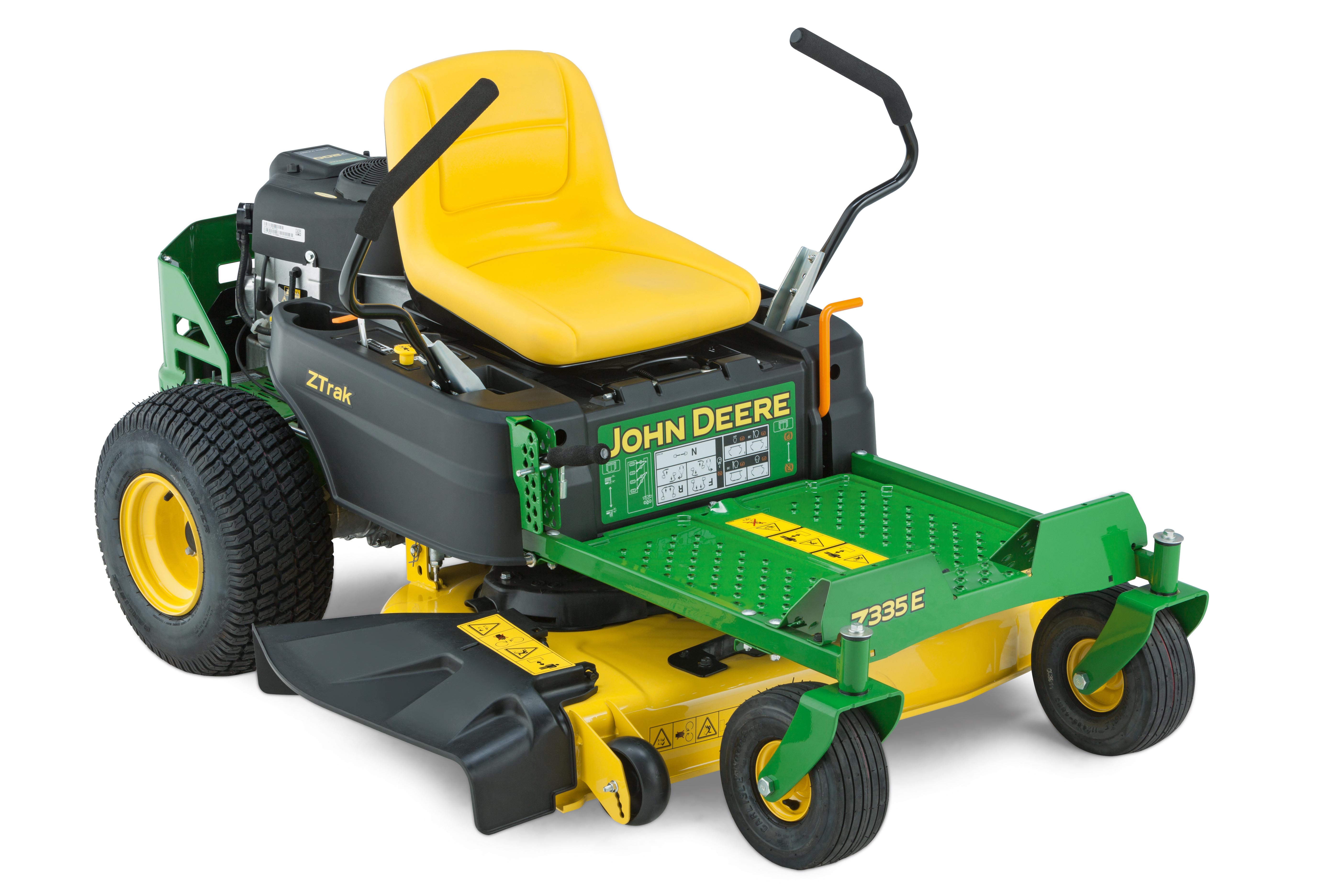 TANGO E5 Series II robotic mower
John Deere's TANGO E5 Series II robotic mower features a big display screen and smart navigation technology; it's simple to set up and produces consistently excellent results. TANGO's powerful Lithium-Ion battery enables it to cover grass areas up to 2200m2 (about half an acre), mowing in a random pattern within an easily installed concealed boundary wire. As the mower moves around the lawn, its navigation sensors detect the boundary wire, as well as any obstacles, and it turns automatically. Grass clippings go straight back into the lawn as valuable fertiliser. A tidy-up lap around the boundary keeps the edges neat. There's no noise, no mess, and no effort – just a perfect lawn. Price £2130 incl VAT.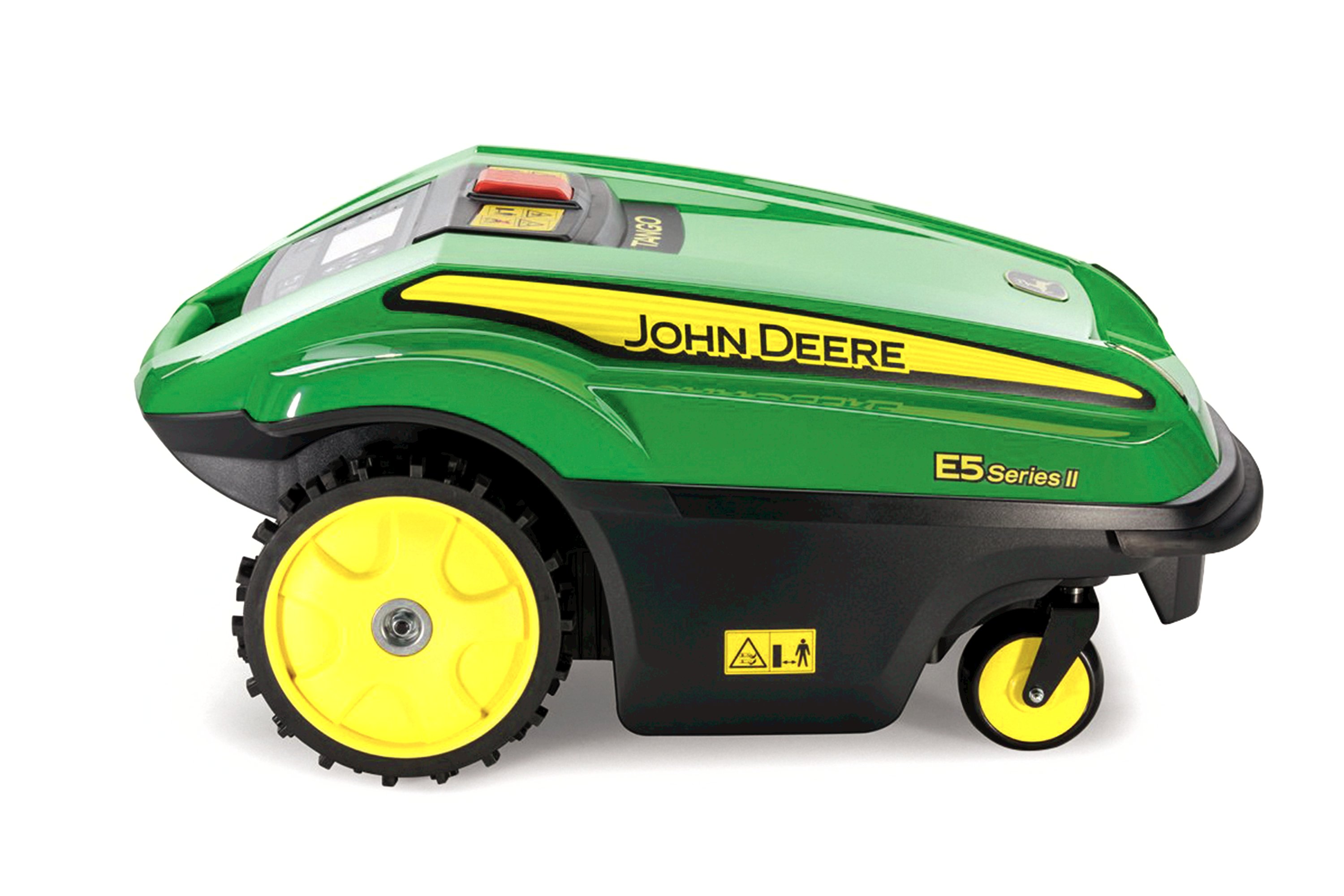 Walk-behind mowers
John Deere's walk-behind mowers offer a wide choice of size, power and high performance features across the company's extensive line-up. Cutting widths range from 40cm up to 54cm. There are petrol, electric and battery powered mowers plus the choice to collect clippings or to mulch. Prices start at £390 inc VAT.
The R54RKB walk-behind mower has a Subaru petrol engine for top performance and reliability. Suitable for mowing areas up to 2500m2 (over half an acre), the R54RKB is fitted with a steel rear roller for a stylish striped finish. The TurboStar mowing system ensures a precision cut and great collection even when mowing in tough or damp conditions.  With a 54cm (21in) cutting width, the die cast aluminium mower deck is surprisingly light but tough – so tough that it comes with a 15 year warranty. The Blade Brake Clutch means the blades stop the moment you release your grip but the engine still runs. This lets you empty the collector and then get back to mowing without having to restart every time. Price £1415 incl VAT.