Lot of novelties for the beginning of this year !
5 March 2015
Our offer has grown in June 2014 with the arrival of a complete range of seeders. Therefore, the whole range was exhibited for the first time during an international show (SIMA 2015 - France).
Made up of two versions of trailed machines (Disc-O-Sem Silver T and Disc-O-Sem Gold), but also the Disc-O-Sem Silver PM, a mounted machine with an innovative concept which gives advantage to be modulable and adaptable.
The Disc-O-Sem Silver PM is fixed on thanks to its triangular coupling, with a disc harrow (PMD) to evolve in sound conditions, and also an Actimulch rotative harrow (PMA).
In this last configuration, the Disc-O-Sem Silver PMA adapts itself to harsh working conditions as seen on the photos of seeders and the corresponding results from end of November in Brittany.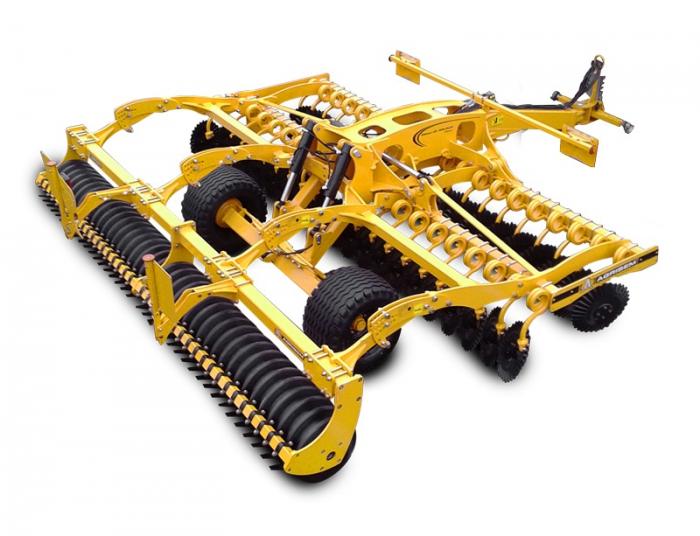 The second novely for the SIMA is that AGRISEM International generalizes the option of hydraulic folding-up on the top of the roller. Presented on the mounted Maximulch Series 3 at Innov'Agr, it will be presented on the mounted Disc-O-Mulch Gold and the mounted Agromulch Gold during the next SIMA show. This option presents non-negligible advantages for the usings which do have medium power tractors with 4 cylinders, such as le rebalancing of the weight of the whole machine during the transport and the decrease of the cantilever.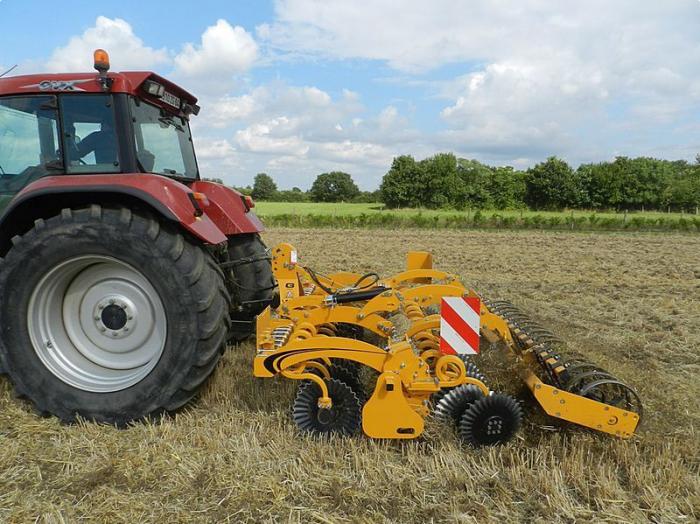 Two last novelties are about the Disc-O-Mulch. First is about the Disc-O-Mulch Silver – a successful disc stubble-breaker since a few years – is coming back out in 2015 with its trailed version.
The wheels kit has been moved in front of the roller, which has decreased the distance between the pivot point and the wheels of 40%, in order to considerably increase the handling.
Second is the creation of 7.5 meters and 9 meters versions of the Disc-O-Mulch Gold to complete the range between 6 meters and the XXL 12 meters versions. Those two new versions took over what had been successful on 6 meters version. The challenge for our engineers was to respect the road safety rules that why they created an ingenious system of folding to don't exceed the maximum transport height. So the transport width is fixed to 3 meters and the transport height for 7.5 m meters version on 3.65 meters then on 4.40 meters on 9 meters version.