New seedbed cultivator : the Vibrogerm !
8 March 2016
We've exhibited in exclusivity during the Agritechnica show our new tillage machine, the VIBROGERM. It expends the range, with a new seedbed cultivator which enables to combine all tillage operations to prepare a seedbed in one pass.
With a high clearance of 60 cm, the VIBROGERM is able to work up to 15 cm deep. It is ideal to tillage after ploughing as well as warming-up the seedbed before the spring seeding. The implement is available in three different widths 4, 5 and 6 meters.
The front Cross-board with hydraulic depth control as well as the crumbling roller of 460mm diameter first allow a good levelling and crumbling of the soil surface.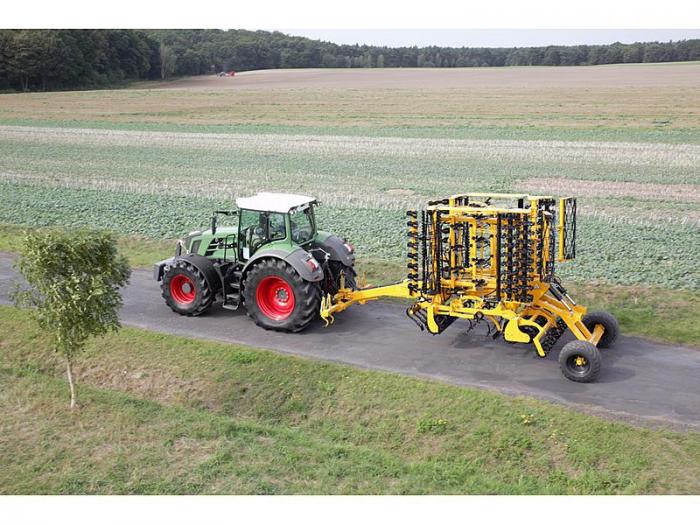 Followed by two or four rows of tines according to the configuration of the machine:
- Configuration with two rows, with 16, 20, or 24 tines (4, 5 or 6 meters width). The tines are mounted with 3D security of 25 mm section, with wing shares and the space between rows is 25 cm.
This configuration, with this type of share allow to scalp the soil over whole width, with an aggressive tillage to obtain a broken up surface layer.
- Configuration with four rows, with 40, 50 or 60 vibrating tines 45x10mm (4, 5 or 6 meters width), the space between rows is 10 cm. This configuration allows an intensive and shallow cultivating, permitting warming up to heats and ventilation of the soil surface before seeding.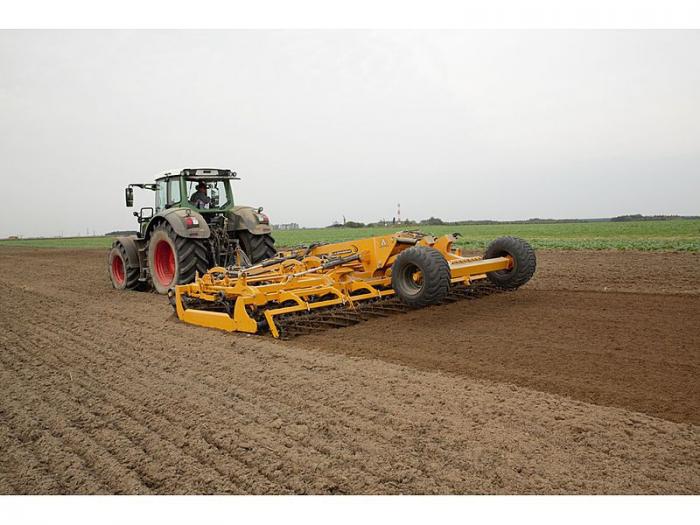 Whatever the configuration of the machine, the tines are mounted on an independent frame with hydraulic working depth adjustment, enabling precise control from the tractor cab. The accuracy of the working depth control provides a perfectly straight field, ready for seeding and promoting a uniform crop emergence. The tines allow burying of the finer soil particles to favor the germination with a good contact between the soil and the seed. Finally, a double 400mm diameter Cross-kill roller press again the upper level of the soil also to prevent loss of moisture, before passing an optional finisher roller of 320 mm diameter.