19 June 2023, 14:54
Extreme off-road Unimog model series enables rescue, recovery and clean-up operations in urban areas and municipalities under threatening extreme weather conditions and flooding

Unimog U 5023 as a roll-off dump truck with hook lift and high fording capability provides fast assistance in heavy rain, storms, floods and landslides

Equipment option ex works with municipal hydraulics and front mounting plate extends the range of applications of the U 5023 to include transport, construction, winter service and other deployment tasks throughout the year
Mercedes-Benz Unimog U 5023 is a proven disaster relief helper for cities and municipalities in extreme weather situations

It enables rescue, recovery, and clean-up operations in urban areas and municipalities under threatening extreme weather conditions and flooding

The Unimog U 5023 is a roll-off dump truck with hook lift and high fording capability

It provides fast assistance in heavy rain, storms, floods, and landslides

The vehicle can be equipped with municipal hydraulics and front mounting plate for various applications including transport, construction, winter service, and more

The Unimog U 5023 is being increasingly used in fire departments, disaster response, and urban and municipal fleets

It is compact, maneuverable, and has extreme off-road capability

The vehicle has a fording depth of 80 cm as standard, and up to 1.20 meters with special equipment

It has a high engine output of 170 kW/231 hp, all-wheel drive with differential locks, and one-hundred-percent gradeability

Equipment options ex works expand the range of municipal applications

Mercedes-Benz Special Trucks will showcase the Unimog U 5023 at demopark 2023, along with other
The Unimog U 4023 and U 5023 from Mercedes-Benz Special Trucks' extreme off-road Unimog model series have established themselves as indispensable helpers for fire departments and disaster response. They are also increasingly being used in many urban and municipal fleets, as climate change is drastically increasing the hazard situation due to heavy or continuous heavy rain, floods and landslides, even in built-up areas. Extreme weather conditions can now affect almost all countries and municipalities. In no time, they put entire cities and regions under water, such as in the Ahr Valley in 2021 or in Emilia-Romagna, Italy, this year.
When it comes to rapidly saving lives in cities and communities affected by extreme weather and efficiently eliminating the consequences of storm disasters, extreme off-road and fording-capable Unimog vehicles come into their own. The flexible usability of the extreme off-road Unimog proves to be a major advantage here. They can be equipped with municipal hydraulics, a front mounting plate and the mounting space behind the cab for municipal applications with different devices. For example, they can also be used for winter service, loading or transportation assignments. This increases their utilization and thus also contributes to the profitability of municipal fleets.
The Unimog U 5023 at the demopark in Eisenach
At this year's demopark, Europe's largest open-air exhibition for the "green industry", which is being held in Eisenach from June 18 to 20, 2023, in addition to numerous Unimog implement carriers, Mercedes-Benz Special Trucks will also be demonstrating an example of the extreme off-road Unimog U 5023, which in the version shown will also be used for municipal applications. On display is the vehicle with a permissible gross vehicle weight of 14.5 tons in the roll-off dump truck version with a Palfinger hook lift system. The hook height can be hydraulically adjusted in height from 900 to 1570 millimeters, so that different skips, containers or platforms can be changed as required at the push of a button and the vehicle can be made ready for a wide range of tasks.
The Unimog U 5023 on display is a customer vehicle with special equipment that is used by a construction company for the transportation of bulk goods and for moving smaller construction equipment. In the event of a disaster, the entrepreneur could also support the municipal building yard with his Unimog. The vehicle is equipped with Automatic Shift (EAS), a rear view camera and a trailer coupling for transportation operations. The TireControl plus tire pressure control system, which can be controlled from the cab, allows lowering the tire pressure. The resulting enlarged contact area increases traction and allows the safest possible driving in changing ground conditions through differently soaked substrates.
In the event of natural disasters, the field of application of this U 5023 primarily covers the elimination of the often serious damage and destruction caused by floods and inundations in municipal areas. The vehicle is predestined, for example, for clearing blocked access routes for other auxiliary vehicles. It is also suitable for almost all other clean-up and reconstruction work required after torrential rainfalls, mudslides and severe landslides. Roll-off containers weighing up to 6.5 tons filled with rubble and debris, tree trunks, boulders or mud masses can be loaded, transported and dumped at landfills using the hook lift. The U 5023 on display in Eisenach can just as reliably transport materials, equipment, boats and relief supplies for the affected population as well as the emergency forces in the disaster area.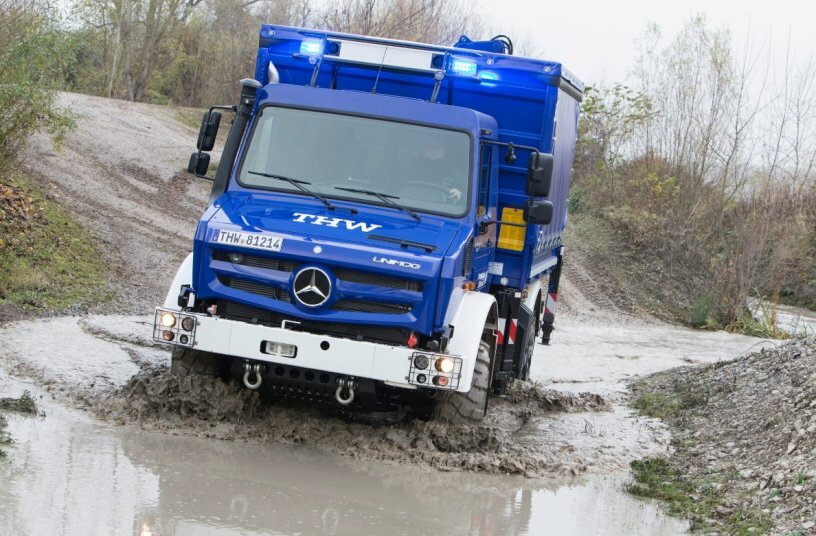 The Unimog U 5023 reaches almost any location during "red alert"
Its compact dimensions with a wheelbase of 3850 millimeters as well as short overhangs at the front and rear, its extreme off-road capability, the high torsional flexibility of its frame and its low center of gravity have proven to be a big advantage for the U 5023 even in day-to-day operations: They enable the maneuverable vehicle with engageable all-wheel drive and axle articulation of up to 30 degrees to reach locations that are difficult to access, such as construction sites under adverse terrain and weather conditions as safe as possible. The U 5023 has a fording depth of 80 cm as standard, and if it is equipped with the appropriate special equipment, water depths of up to 1.20 meters can be crossed.
The special driving and off-road characteristics also allow the U 5023 to be on site as quickly as possible, even in the event of a disaster: Thanks to its fording ability of 1.20 meters, it is as capable of crossing mud and scree fields, alluvial sand areas and soggy subsoils as it is of making safe progress on flooded roads and grassy areas as well as in subways, tunnels and industrial plants. In addition, the synchronized Electronic Quick Reverse reversing group allows quickly changing the direction of travel, which makes rocking free off-road possible, for example.
The high engine output of 170 kW/231 hp, the all-wheel drive with three longitudinal and transverse differential locks as well as the one-hundred-percent gradeability thanks to off-road ratoi make forward progress and maneuvering possible even in extremely critical situations. To reach the site quickly, even driving over small tree trunks and boulders is not an insurmountable obstacle for the U 5023. Its portal axles with torque tube technology ensure a large approach/departure and ramp breakover angle, which gives it a ground clearance of up to half a meter.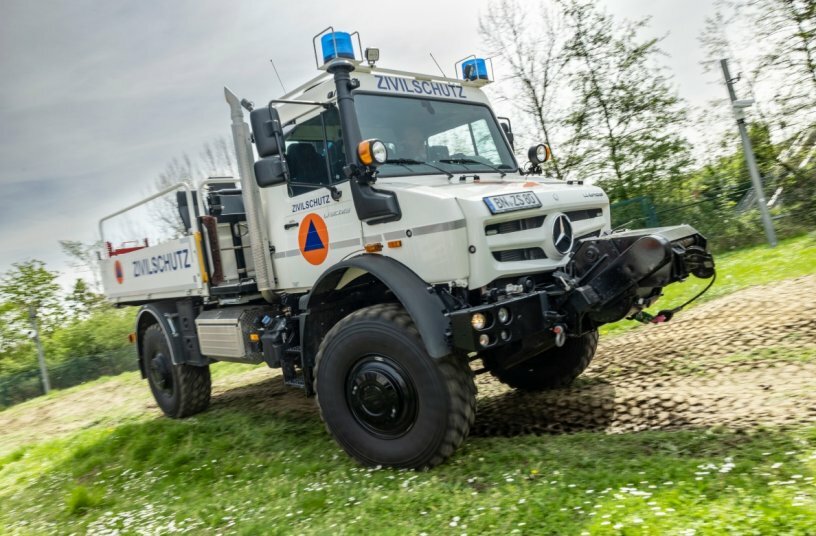 Equipment options ex works expand the range of municipal applications
Equipment with dual-circuit municipal hydraulics, a front mounting plate, a recovery winch and many other options is possible ex works or via the authorized Unimog dealer on customer request. In combination with changing attachments and body implements, the possibilities for municipal use continue to expand considerably throughout the year. The U 5023 can be used for snow removal operations in winter service or seasonal landscaping and maintenance operations in spring, summer and fall.
The product range of Mercedes-Benz Special Trucks at demopark
At this year's demopark, Mercedes-Benz Special Trucks will be presenting around 20 further exhibits of the Unimog implement carrier model series and the extreme off-road Unimog model series with a wide range of attachments and body implements for the green industry. They underscore the system competence of the all-rounder, which has proven itself over 75 years, and demonstrate the versatility of the Unimog in municipal operations throughout the year.
One highlight at this year's Mercedes-Benz Special Trucks stand is the prototype of a Unimog implement carrier based on the U 430 with a hydrogen-powered combustion engine and an MK 25/700 front-mounted mower from G. Dücker GmbH & Co. KG.
As part of the "WaVe" project funded by the Federal Ministry for Economic Affairs and Climate Protection, Mercedes-Benz Special Trucks, as consortium leader, is also investigating drive systems such as the hydrogen combustion engine for the Unimog for research purposes. The administrative control of the project, which is being implemented jointly by 18 partners from industry and science and started in July 2021, is in the hands of Commercial Vehicle Cluster Nutzfahrzeug GmbH.
The product range of Mercedes-Benz Special Trucks can be seen at demopark 2023 at the B 243 outdoor stand.
Source: Daimler Truck AG