4 August 2021, 09:36
Wheeled excavators in the 18-tonne class are in high demand for sewerage construction, roadworks and demolition work. The firm Neureiter GmbH located in the Bavarian municipality of Fremdingen is a 60-employee company focused on both above- and below-ground construction. For sewerage system construction work, they utilise a Hyundai HX235 LCR short-tail crawler excavator as well as an HW180 wheeled excavator with 2-piece Boom, Oilquick quick coupler and outrigger/blade support.
The blue wheeled excavator has been deployed since May 2021 in the village of Minderoffingen south of Dinkelsbühl on a comprehensive project to reconstruct the main sewerage line laid in the 1960s as well as the adjoining house and building connections, over a total length of 2,500 m. The project call for tenders covered replacement of the sewerage equipment, piping, collectors and connection points. This entails replacing the sewerage lines with lines of larger cross sections. Pipes and shafts are being made of steel-reinforced concrete, with piping fabricated to diameter-sizes of 300 mm, and for the main sewer line up to 1,000 mm. Thirty-two house and building connections also require replacement.
The sewerage system construction project together with the new water lines is scheduled for completion by the end of 2021. The order volume comes to a net total value of EUR 1 million. Neureiter has been a family-owned construction company since the 1890s . Now in its sixth generation, the firm performs works both below and above ground as well as plastering. Other services they provide include construction site logistics, sale of construction materials, and soil reconditioning.
Managing director Xaver Neureiter has been active in the business since 2009. He views his company as specialists in municipal sewerage system construction, and their order books have been filled to capacity with sewerage replacement orders from municipal clients since 2017. The firm that he leads together with his father and uncle is active within a radius of some 60 km around their company headquarters. The firm's very extensive machine fleet includes 11 excavators, ranging from the 1.8-tonne mini excavator to the 30-tonne crawler excavator for heavy-duty below-ground construction and sewerage jobs.
Talking about Hyundai, Xaver Neureiter remarks that "the responsible HCEE dealership, Engelhardt Baumaschinen in Schopfloch, has a good location and offers excellent service – and these were winning factors in our decision to list Hyundai as a supplier".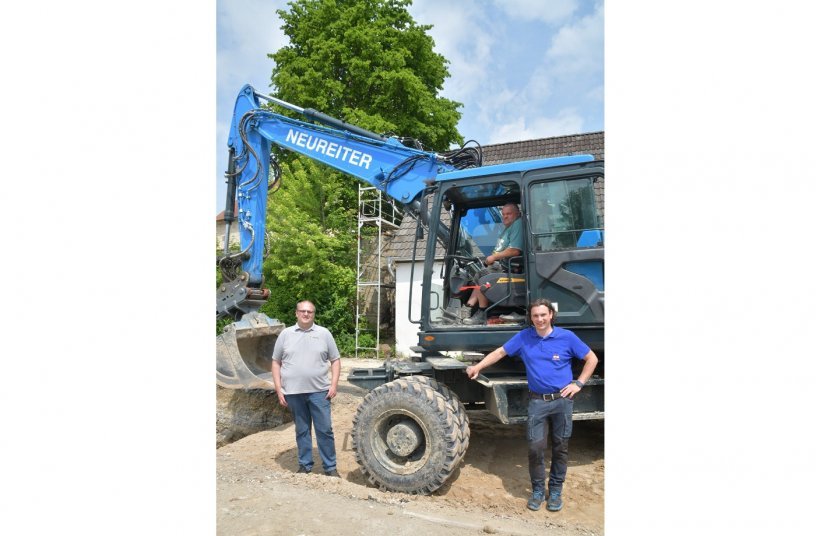 The 17.8-tonne, 127-kW-strong wheeled excavator in its striking RAL 5015 colour has been deployed since May 2020, and is a hard-working hand at the sewerage project site: first to excavate the existing sewerage lines, for filling work, and loading the lorries for backfilling. This is because the extracted material is stored outside of Minderoffingen, so the Hyundai HW180 continually commutes between the sewerage construction site and soil storage area. At Neureiter, a set team of operators uses the large equipment. This increases the machine availability, ensures that machine appearance is kept tip-top, and offers a guarantee that the operators have familiarised themselves with the complex technology. Up to three crews are deployed to execute the below-ground activities, working in parallel at different locations on site. The equipment is in operation for anywhere from 800 to 1,200 working hours.
Xaver Neureiter uses the series-based Hi MATE machinery management system from Hyundai to stay on top of the performance data, consumption and technical condition of the equipment. Marco Zimmerer operates the wheeled excavator, and praises the high-precision hydraulics as well as the quiet and pleasant working environment in the cab.
Source: Hyundai Construction Equipment Europe