3 May 2021, 16:42
"As recently more and more customers ask for sustainable and emission-free building sites and e.g. municipalities prefer companies who can offer to realize projects this way, the partner of Heijmans, Hup Bestrating, invested in three electrically driven GIANT wheel loaders since the beginning of last year. The machines met all the requirements and could easily compare with the diesel versions in respect of performance but create only a minimum in disturbance when working on sites in the centre of Amsterdam."
Heijmans wants to build CO2-neutral after 2023 and has the ambition to realize completely emission-free works by 2026. Not only good for the climate, it also provides better workplaces for employees and less nuisance for the environment. Hup Bestrating has been working as a subcontractor for Heijmans since 2006 and uses three electric G2200E X-TRA wheel loaders for road works in the Amsterdam city centre.
Quickly convinced of the G2200E
At the end of 2019, Hup went in search of an electric wheel loader because he was convinced of the possibilities and potential of this machine. It was important to him that the machine could perform all the work that was carried out by a diesel variant at that time. To put it to the test, a demo was requested. In this way it was tested in practice whether the machine would be suitable.
Jeroen Hup: "We were convinced of the G2200E X-TRA within five minutes. The machine is powerful because you have the power available immediately. Due to the three different driving positions, it is always possible to work precisely. In addition, the machine easily lifts a pallet of paving stones. "
"Furthermore, the machine turned out to be nice and quiet because no hydrostat is used. This makes it very easy to consult with each other during work. In January 2020 we received the first G2200E X-TRA and the machine just does exactly what we want. So good, in fact, that we put the second machine into use in August 2020 and the third machine in January of this year. "
CO2 neutral construction site
Clients such as Rijkswaterstaat, water boards and municipalities are increasingly demanding a CO2-neutral construction site. "That is why it is very important that we switch to clean energy sources for many more activities," says Lars Sies. As a manager in the northwest region, he and his team carry out many road works in the Amsterdam city centre.
The construction sites of Lars are already partly designed in a sustainable way. "In one of our projects, a GreenBattery supplies the power needed for the site hut, for hand tools and for the electric GIANTs. A diesel generator is therefore superfluous. Other sustainable solutions are small power tools such as a rammer and vibrating plate. Less emissions and noise. Better for the environment and the colleague who operates the machine."
Jeroen adds; "The municipality not only regularly checks the work, but also whether electrical work is being done. This has everything to do with the commitment that has been made to reduce CO2 as much as possible."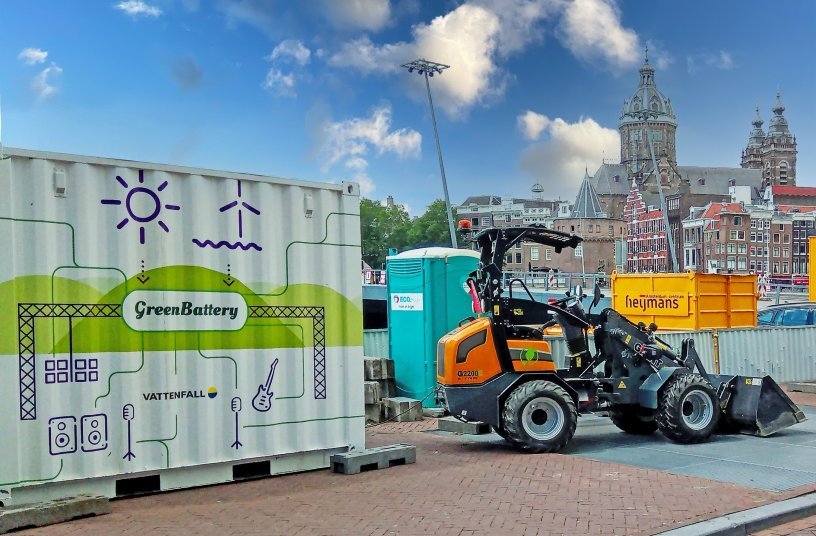 Working day and night
Hup employs 6 people in 2 shifts on different projects. Part of the work takes place in the evening or at night, because it is then quiet and work can be done safely. "The silence of the G2200E X-TRA comes in handy, because it limits the inconvenience. We also opted for extra work lights and traffic lighting so that we always have enough light for the work. "
"The electric loaders are used for a wide range of activities that contribute to improving road safety. This varies from carrying out repairs to the complete renovation of roads, footpaths and bicycle paths. We are responsible for removing the old paving, levelling it and finally paving it again. In order to be able to perform all these activities properly, we have invested in a large number of accessories for the machines. This could include a tile and soil tray, but also various clamps such as a tire clamp and hydraulic paver laying clamp. "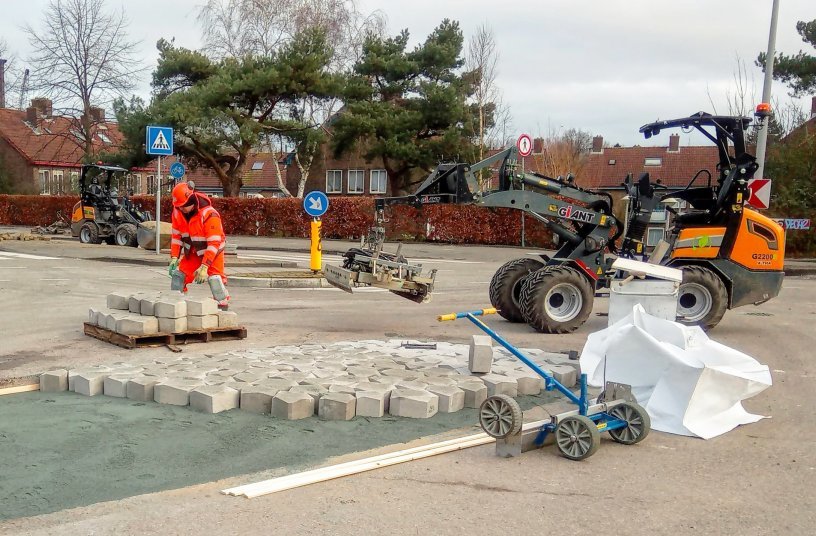 Never without power
All three articulated loaders are equipped with the heaviest lithium-ion battery of 520 Ah and have an "on board" charger 60A (230V). "I can work for 2 days with a full battery. Of course the machine sometimes stops and the GIANT uses nothing at all. Then the machine goes on the charger overnight and the battery is full again in 5 hours. It is especially important for a user to adapt. For example, if I am working with the machine all day, I will recharge during the break. In this way I know for sure that I can work with the machine all day and that I am never without power."
Source: TOBROCO-GIANT