2 November 2021, 15:56
K.I. SAMEN acts future-oriented with the help of a GIANT G3500
The family business K.I. SAMEN, located in Grashoek, the Netherlands, has replaced its old served and reliable GIANT V6004T with a new G3500. The G3500 offers proven quality, versatility and agility combined with newest technical standards and environmental friendliness. It is able to handle all tasks that occur on the dairy farm with the available attachments - and fits well into the quality conscious company.

Europe's first privately owned Artificial Insemination Station was established in 1982 and is headquartered in Grashoek, the Netherlands. K.I. SAMEN is a family business run by Ralph, Bas and Nancy Engelen and is worldwide active in the sale of bull semen. The focus is on practical breeding, which means that they want to improve breeding by looking at the cow first and especially by paying attention to the practical conditions on dairy farms.

Both K.I. SAMEN as TOBROCO-GIANT aim for quality in which the customer plays a central role. This is underlined by the choice of a GIANT G3500 as the successor to the GIANT V6004T, which has already worked 13,000 hours without any problems since 2012. Ralph Engelen: "The GIANT G3500 is easy to use, can be controlled by anyone and is a machine that is literally used for everything because of all the attachments. We assume that we can also work 13,000 hours with this GIANT without any problems!"
Worldwide export
K.I. SAMEN is active worldwide in the sale of bull semen. Where it started with 5 bulls, the company has now grown to more than 30 Holstein bulls. Striking at K.I. SAMEN is that their market share is increasing by more than 7% annually in a shrinking market. The company not only has a very strong position in Eastern Europe, but also exports to the United States and Taiwan.

The secret of this success is that they always keep their promise and are practically involved with the farmer. This means that the breeding specialists always first listen carefully to what the farmer wants with his cows. Each cow is individually examined and evaluated so that the most suitable bull is selected for each cow.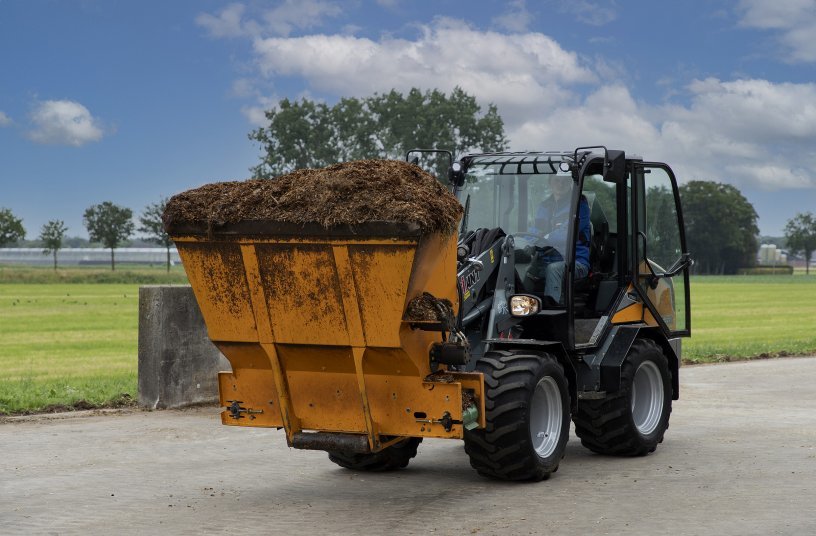 Grashoek breeding and dairy farm since 1778
In addition to K.I. SAMEN, the Engelen family is also the proud owner of the practice farm: Breeding and Dairy Farm Grashoek. The history of this company goes back seven generations to 1778, when Paulus Engelen settled in Grashoek. The company is now owner of several locations, spread throughout the Netherlands.

Bas: "We breed the practical cow for tomorrow! Which means; a balanced cow that is in good proportion and can make a long life with an optimal and good healthy production". In the showroom of Breeding and Dairy Farm Grashoek, the young bulls are tested in order to later see in practice how they perform from each other. But also to compare the bulls. "In recent years, we have been approximately 40% higher in life production than the Dutch average. And the cows are on average more than one year older." Tells Ralph proudly and with passion.
GIANT G3500: stage V and long lifespan
Breeding and dairy farm Grashoek is a fine example of a dairy farm that shows how traditional values and modern insights go hand in hand. With a growing and active team for the better cow next to them, Ralph, Bas and Nancy consciously invest in resources aimed at a healthy future for humans and animals. The 12,000 solar panels that have recently been installed are the silent witnesses that show how future-oriented and enterprising the Engelen family is.

The choice for the GIANT G3500 with stage V diesel engine is therefore a logical step and fits within the company's vision to make environmentally friendly choices. Bas explains why the company is so loyal to GIANT machines: "We have been working with a GIANT V6004T since 2012 and it has worked for 13,000 hours without any problems. We realize that this is an awful lot. The machine has always done its job well and has never let us down."
The G3500 has a Z-BAR construction as standard. To ensure proper performance and fuel efficiency, the G3500 is powered by a new and reliable 48.5 kW / 66 hp diesel engine from Kubota. The engine is equipped with a catalytic converter (DOC) and particulate filter (DPF) according to the latest, EU Stage V, standards for clean engines. In combination with hydrostatic 4-wheel drive with automotive steering and 100% switchable lock on both, 14-tonne axles, this ensures a performance of size. "We specifically chose the stage V engine," Ralph says. "This is because it produces cleaner air, which is better for humans and animals. This is very important for us within our company."
Can be used nearly endlessly
K.I. SAMEN has opted for a spacious, full option cab because they work with the GIANT G3500 all year round. The cab is comfortable, ergonomic and quiet. But it is also equipped with LED working lights and traffic lights so that work can continue properly and safely in winter. Another option that was chosen is boom suspension. Because the machine has a driving speed of 30 km/h, carrying out transport work with boom suspension is much more comfortable and efficient.
In addition, this machine can be used endlessly for all common activities on the livestock farm, thanks to the extensive range of more than 200 attachments. The standard working hydraulics of 70 l/min in combination with the manual throttle option makes working with hydraulic attachments, such as the MVB 1250 divide bucket, very user-friendly and easy to deploy. In addition, a bale fork, snow blade and a feed and manure scraper are used.

Bas explains what the GIANT G3500 is used for: "The work that the GIANT performs on the dairy farm is feeding and pushing, mucking out pens and filling boxes. All work performed on a dairy farm can easily be performed with the G3500. The wheel loader works great in narrow spaces because it is very manoeuvrable." In addition, the ideal machine for the dairy farm should not weigh more than 3.5 tons due to the slats in the barn. And the GIANT G3500 also meets this requirement.
Source: TOBROCO-GIANT