5 August 2022, 06:45
Next generation Redulus4F Industrial Gearbox's Flexible, Compact Design Helps Enable Extended Load Capacity and Performance

ProVID Condition Monitoring System Provides Rapid Response Maintenance, Extended Global Support
ZF Witten is showcasing its latest innovations for the mining and large construction industry at BAUMA Munich 2022 for mobile and stationary applications.
The company is launching several new innovations, including a next generation Redulus4F Industrial Gearbox Series and Advanced Serviceability Solutions, based on the unique ProVID Condition Monitoring System, which features an extended global support network that provides rapid detection and maintenance quickly and efficiently. Special application solutions like shiftable gears for TunnelBoringMachines or Recycling underline the strong engineering competence of the company.
"Advancements in large-scale gearbox applications for the mining sector are critical as demands on equipment load, durability and performance continue to be driven higher and higher," said Christoph Kainzbauer, Head of Product Line Industrial Drives within the ZF Group. "Our complete portfolio of gearbox solutions demonstrates our extensive experience across many industries and how we've successfully applied it to mining and large construction. We're pleased to showcase these innovative solutions at BAUMA Munich '22."
Redulus4F Industrial Gearbox
ZF's next generation Redulus4F Industrial Gearboxes feature a flexible, compact design capable of creating more than 2,000 gearbox combinations, while delivering extended load capacity and advanced serviceability – all in one package.
The innovative Redulus4F construction kit includes 20 gearbox sizes designed to support up to a 40 percent increase in torque and covers a broad torque range (99 kNm up to 5800 kNm), resulting in higher load capacity and optimal machine performance. The unique design of this compact gearbox features a smaller outer diameter, less weight and requires less packaging space, enabling a simplified installation process and reduced costs.
Additionally, with the development of the Redulus4F construction kit, requirements of various markets are considered, offering solutions for multiple customers spanning different industries.
Advanced Serviceability/ProVID Condition Monitoring System
Access to standard components and rapid repair are critical needs for the mining industry. ZF's expanded serviceability program now features four regional service centers, 33 service companies and more than 650 partners globally that can reliably and efficiently meet the needs of its customers' service needs.
ProVID, ZF's Condition Monitoring System for large drive systems, offers a unique and innovative approach to service monitoring. The system increases operational reliability by monitoring performance and condition of core equipment components, helping to increase service lifetime and minimize engine downtime.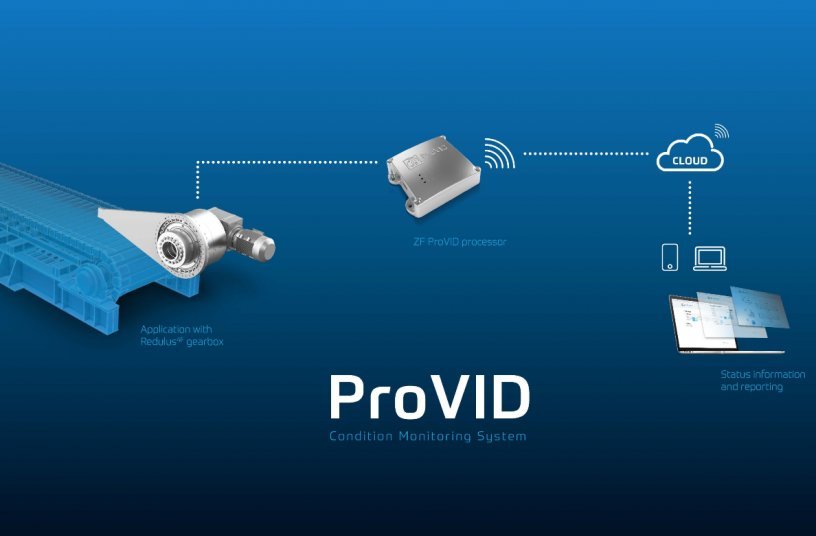 Additionally, ProVID offers fast reaction time in the event of early failure detection, and combined with ZF's robust service network, decreases equipment downtime. ProVID has been proven in ropeway applications such as ski-lifts and urban lifts and has now been extended to all other industrial applications, with the first success in shredder gearboxes and thruster drives for marine applications.
Application related product innovations
Innovative drive solutions developed in a strong view for customer needs is part of company's core competence. Shiftable gears for TunnelBoringMachines (TBM) or Recycling for example underline the strong engineering competence.
Drive Solutions for Mobile Mining/Large Construction Applications
As mobile mining devices continue to evolve, the durability, lifetime and performance of the drives must be developed to withstand the most extreme conditions. ZF offers a full line of products for mining excavators and large construction applications.
GPT4F Next-Generation Drive Gears
ZF's GPT4F Next Generation Drive Gears, designed for mining applications and large construction equipment, such as excavators and cranes, now offer increased torque density up to 10 percent, which enables higher robustness, supporting a longer service lifetime and reducing total cost of ownership.
Source: ZF Friedrichshafen AG