29 May 2023, 08:33
CM Labs Simulations and ST Engineering Antycip sponsor UK Plant Operator of the Year awards 2023 in the Telehandler category

CM Labs provides simulation-based training solutions to address labor shortages and reduce production and energy costs

The competition is organized by UK Plant Operators Magazine and draws leading Plant Hirers, Contractors, and Owner Operators

Competing operators will use CM Labs' simulators running the Telehandler Training Pack to test their skills during final rounds at the Construction Industry Training Board (CITB) headquarters in East Anglia on September 30, 2023

CM Labs' Telehandler Simulation Training Pack features a fixed, telescopic boom with forks and bucket attachments and replicates machine stability and engine behavior to reduce accidents

CM Labs' full catalog of earthmoving and lifting equipment will be available to experience on the fully immersive Vortex Advantage and the entry-level motion-enabled Vortex Edge Max at the UK Plant Operator of the Year event in September
CM Labs provides training solutions to remedy labor shortages, driving down production and energy costs; sponsors Telehandler category.
CM Labs Simulations, leading vendor for simulation-based training in the construction and ports industries, and its European partner and simulation expert, ST Engineering Antycip, have announced the sponsorship of the UK Plant Operator of the Year awards 2023 in the Telehandler category.
Now in its third year, the nationwide competition, organized by the UK journal UK Plant Operators Magazine, is an opportunity for plant operators to showcase their skills on more than a dozen different earth and lifting construction equipment. As the largest independent event of its kind, the contest draws UK's leading Plant Hirers, Contractors, and Owner Operators. Of the many OEM's and construction specialists participating, CM Labs and its European partner, ST Engineering Antycip, will be sponsoring the Telehandler category - in simulation.
Competing operators will use CM Labs' simulators running the Telehandler Training Pack to test their skills during final rounds at the Construction Industry Training Board (CITB) headquarters, in East Anglia, September 30, 2023.
"Our operator training is a proven method to ensure the construction industry is safer, more efficient, and ultimately, sustainable. We are thrilled to be part of a committed group like UK Plant Operators who are championing the need for qualified safe operators," said Davis Sieu, CM Labs' Construction Division Product Manager. 
For more than 25 years, CM Labs has focused on heavy equipment simulation training. With over 1,000 simulation installations in 39 countries, it offers an incredibly realistic experience using proprietary Smart Training Technology™ and motion-enabled platform simulators. Smart Training Technology ensures precision engineering of the simulated environment and delivers the most transferable operator skills anywhere, outside of the real equipment. 
This joint sponsorship of the competition underscores the partnership and shared commitment to promoting safety and excellence in the construction industry. "By leveraging CM Labs' advanced training solutions and our expertise in simulation technology, we aim to empower plant operators with the skills and knowledge they need to operate equipment efficiently and safely. We are excited to be part of this prestigious event and look forward to witnessing the outstanding abilities of the participants in the Telehandler category," said Amir Khosh, ST Engineering Antycip Sales Manager.
CM Labs' Telehandler Simulation Training Pack is one of the latest training solutions for lifting equipment. It features a fixed, telescopic boom with forks and bucket attachments. The simulation exercises replicate machine stability and engine behavior, reducing the likelihood of accidents due to tipping or collisions. Using challenging load management scenarios, operators can improve their cycle times and fuel efficiencies.
CM Labs' full catalog of earthmoving and lifting equipment will be available to experience on the fully immersive Vortex Advantage, and the entry-level motion-enabled Vortex Edge Max. at the UK Plant Operator of the Year event in September.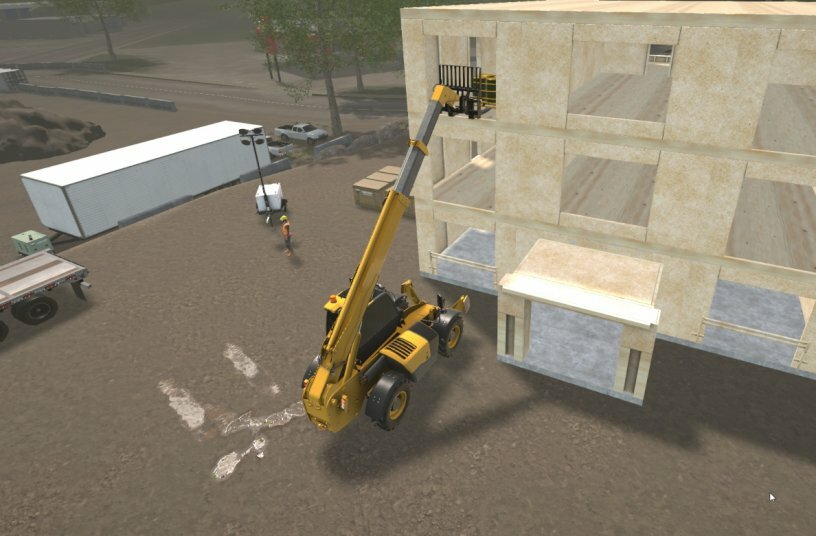 Source: ST Engineering Antycip; CM Labs Simulations Inc.