19 September 2022, 12:56
At its trade fair stand 721/9 in the Freigelände Nord, Fliegl Trailer is presenting its trailer concepts with sustainable innovation character. The broad semi-trailer tipper range is represented by three models. The most revolutionary aluminium tipper, the DHKA Fliegl Revolution, scores with a unique unladen weight starting from below four tonnes. The Fliegl StoneMaster with steel half-shell body is on display as a two- and a three-axle version. The latest model of the ZPS combination trailer will also be on show. The original from Triptis is a true all-rounder when it comes to disposal.
The Fliegl Revolution points the way to greater efficiency in the transport industry. With a net weight of under four tonnes, this aluminium semi-trailer tipper is a special highlight. The tapered 25 cbm body made from high-strength aluminium is optimally matched to the "Curved" chassis in fine-grain steel. This combination ensures both high stability and an excellent weight balance. The low-neck height of only 190 mm reduces the overall height of the body – this means the centre of gravity of the load is lower, ensuring greater driving safety and tipping stability.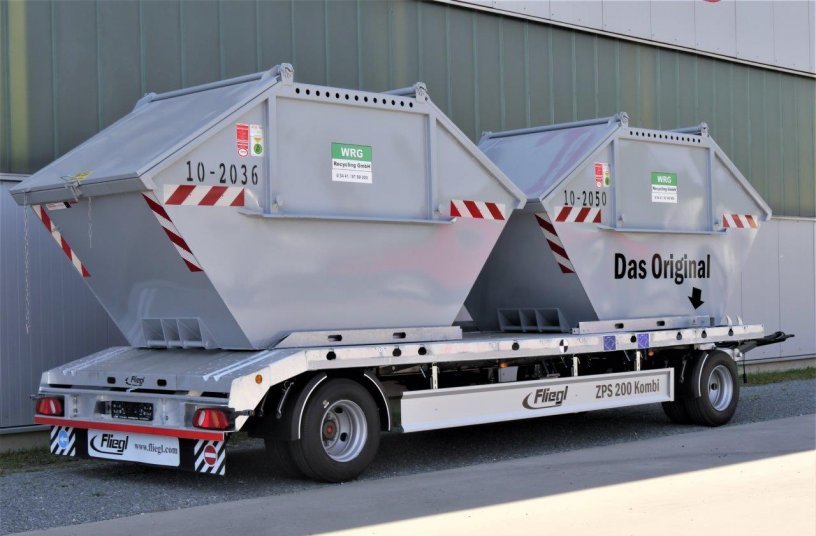 Air deflectors, in combination with the "Curved" chassis design, tapered body and convex diaphragm rear panel, ensure an excellent drag coefficient, thereby cutting fuel costs. The hinges of the rear portal are subjected to high loads with high frequency unloading cycles. Fliegl uses a double-jointed hinge for increased protection of this important component. This hinge gives the tail gate greater
freedom of movement in upward direction and, unlike a single hinge, is not damaged by the tail gate coming to rest on the bulk material. The bulkhead is sloped at an angle of 21°, which makes it easier to unload even cohesive materials and ensures better load distribution. The aluminium used in the body is exclusively high-strength material with a Brinell hardness of HB 110. This ensures outstanding abrasion resistance even with abrasive loads and at the same time means low weight.
The operator platform with access from both sides is mounted on the lift cylinder. In addition to allowing height adjustment, this offers effective protection of the supply lines and far easier access by the driver. To put it in a nutshell, its low weight, user-friendly details, a comprehensive range of optional equipment and low life-cycle costs make this semi-trailer tipper equally perfect for fleet use and for operators with individual wishes with respect to equipment and appearance. Its efficiency makes the Revolution tipper attractive for building contractors – while the enormous diesel savings of this trailer also deserve a mention. In concrete terms, this means: The Fliegl Revolution scores points with its unladen weight of just under four tonnes, which gives it one whole tonne more payload than a "conventional" DHKA 390. In other words, widespread use of the Fliegl Revolution would mean around 3.5 % fewer trips in the construction industry overall (based on the total volume of full loads). And 3.5 % fewer trips would save 770 million litres of diesel per year. Once again, Fliegl demonstrates what efficiency and sustainability really mean: less weight and less diesel. All possible with the Fliegl Revolution.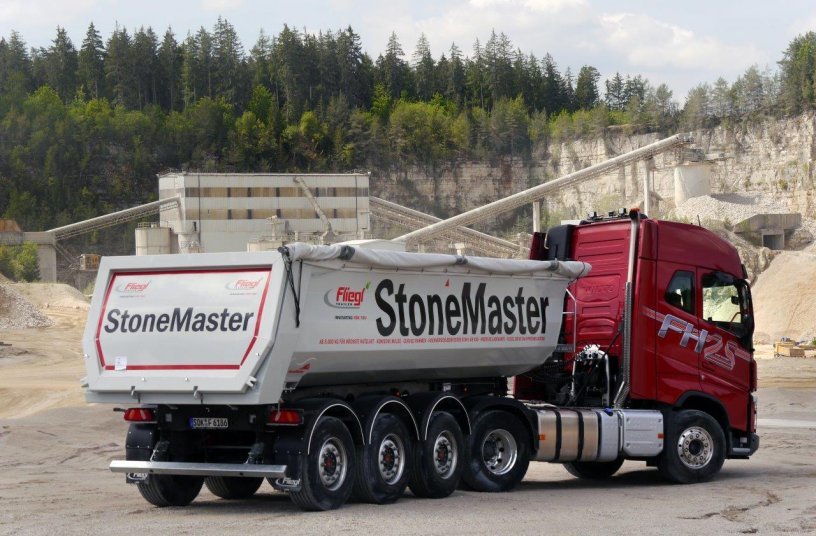 But its "steel" colleagues are no less attractive. The Fliegl StoneMaster will be on show at the Bauma both as a two-axle model and with a three-axle chassis. Their sustainable design offers economic and ecological advantages – right from the start. Both StoneMaster models are equipped with a tapered body in original Hardox HB 450. The angled bulkhead is optimally matched to the tried and tested "Curved" chassis. This combination ensures both high stability and an excellent weight balance. Moreover, the tapered design means that a smaller tipping angle is required to ensure optimum discharge of the load. The trough-shaped body is only 1,450 mm high. This means a low centre of gravity, while the low loading height facilitates loading from the side, and the top edge of the body does not protrude beyond the tractor unit, which significantly reduces consumption. These semi-trailer tippers are designed primarily for use on construction and demolition sites and for transporting rubble, rocks and, for example, heavy boulders. Both the "Curved" chassis and the robust body in original Hardox HB 450 take short distances and extremely frequent tipping cycles with high loads equally in their stride. This ensures outstanding abrasion resistance even with abrasive loads and at the same time means low weight. The walls and floor of the three-axle semi-trailer tipper with Cramaro sliding tarpaulin on display are 4 mm thick throughout, while in the last third, which is subjected to particularly high loads, the floor is 5 mm thick. In addition, the Hardox is underlaid with 4 mm of steel in the area of the upper chord. This provides effective protection against damage during the loading process. The diaphragm rear panel typical of Fliegl trailers is designed as a pendulum flap and locked with two external hooks. If required, two additional clamping bolts with toggle clamps ensure perfect sealing of the tail gate.
The two-axle model with 27-cbm body and Cramaro tarpaulin is equipped with a hydraulic tail gate. A further highlight is the automatic folding underride guard which is automatically raised by robust pneumatic components during the tipping process. And the paver-compatible underride guard can also be raised manually – which is by no means a given. The bulkhead is sloped at an angle of 21°, making it easier to unload cohesive loads and ensuring better weight distribution. The side walls and floor are also 4 mm thick throughout, and here, too, the last third of the body floor is underlaid with Hardox steel with a thickness of 5 mm.
Semi-trailer tippers from Fliegl offer stability, resistance to tipping and durability. Their core feature is the tapered body which becomes wider towards the rear and has proved its worth over many years. It allows bulk materials to slide quickly out of the trough. Equipped with the Fliegl Drive On, the semi-trailer tipper is particularly stable during loading and unloading. Thanks to intelligent weight distribution when the Drive On is switched on, 2.8 t of the trailer weight is transferred to the drive axle of the towing vehicle during tipping. That is 10.7 % of the trailer weight. And when approaching, an impressive 6.7 t of the trailer weight is transferred to the drive axle of the towing vehicle, which corresponds to 25.8 % of the trailer weight. A further advantage: The entire solution, which is above all extremely low-weight (weighs only 26 kg rather than several hundred kilos), works completely without hydraulic oil. It couldn't be more environmentally friendly.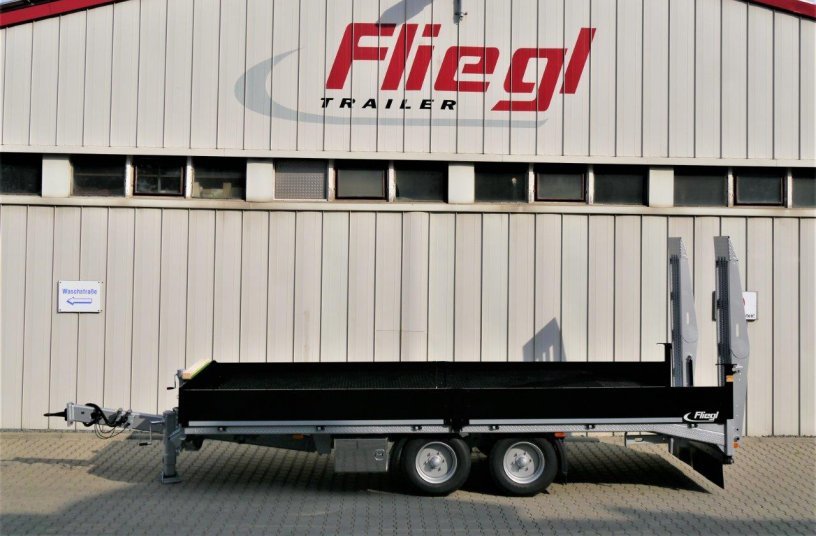 The chassis of each individual Fliegl trailer is exactly adjusted by precision laser. This individual measurement guarantees less rolling resistance, lower fuel consumption and less tyre wear – a measurable added value. Lower life cycle costs and lived sustainability for the transport of bulk materials is a chassis and trough construction strategy which Fliegl Trailer will continue to follow consistently in future.
In addition to the big semi-trailer tippers, Fliegl is also presenting its small tipper, the tandem three-way dump trailer TSK 118.
Along with excerpts from its range of tippers, Fliegl is also presenting its all-rounders in the disposal industry, the two-axle turntable trailer ZPS 200 K Jumbo Z. This ingeniously designed trailer offers optimum versatility and flexibility. It can transport skip and roll-off containers just as easily as construction machinery and impresses with extremely high payloads – thanks to an unladen weight starting from only 4000 kg. This is due to the combination of the reinforced track for transporting construction machinery and roll-off containers and its adjustable and removable longitudinal guide rails. Thanks to the reinforced track, even the high point loads which occur in particular when loading and unloading roll-off containers
are transferred cleanly to the chassis, which is specially designed to absorb such loads. A pneumatic lock with a clamping force of almost six tonnes ensures that containers and the load are safely secured.
The platform is 7,000 mm long and well equipped: eight pairs of lashing knobs, each with a load capacity of 5 tonnes, ensure that the load is lashed down tightly. The lashing points can be supplemented by a combination with seven pairs of lashing rings. And of course, the lashing points are arranged in such a way that X-bracing in accordance with VDI is no problem. The equipment is rounded off by two pairs of locking wedges for skip containers, a container lock for 1x 20-foot container, including locking adapter, and 4 side posts with lashing rings.
Pneumatically lowerable drawbars, a continuous load surface, the possibility of using side posts to create attachment points precisely where they are needed means that the combination trailer can transport a wide variety of long materials safely. Thanks to the ramps securely stowed on the vehicle, construction machinery can be moved quickly and easily with little preparation required. The same applies to the transportation of skip and roll-off containers. Here, too, the standard equipment of the ZPS combination trailer includes everything you need to complete such transport operations with minimum effort. Optional plug-in side panels, a higher payload with the optional three-axle version – this platform trailer is extremely flexible and can be easily converted for many different applications – without special tools and time spent in the workshop. Not many trailers in this weight class are so versatile. Often copied, still unmatched: Fliegl's ZPS 200 combination trailer at the Bauma: FN 721/9.
Source: Fliegl Fahrzeugbau GmbH