LiuGong determined to win the North American market
9 March 2017
LiuGong - a global leader in the manufacture of a full range of extreme duty construction equipment – is about to enter its tenth year in the US market. LiuGong North America has evolved into a fast-growing, innovative heavy construction equipment and material handling operation. Their reputation is built on a commitment to providing quality, cost-effective machinery and for delivering quick service to the market.
Speaking in anticipation of the company's appearance at ConExpo - one of the largest international trade shows for the construction industry, to be held in Las Vegas in March - Mr. Li Dongchun, President of LiuGong North America, recalls what drove the company's decision to expand into the US initially: "The U.S. economy, with GDP of over $18 trillion, is still the largest and most important in the world. North America is a critical market for any top construction equipment manufacturer and for that reason, it plays a critical role for LiuGong."
Reflecting on the company's rapid expansion he is keen to stress: "We don't do rash acts. We conducted three years of research before we established offices here."
LiuGong's products are tailor-made for this "critical" North American market and are increasing in number; with the result that the company offers full lines of wheel loaders, excavators, skid steer loaders, material-handling equipment and Dressta dozers across the US, Canadian, Mexican, Central American and Caribbean markets.
With the development of this business, an increasing number of dealers and partners are joining LiuGong's network. Currently, LiuGong have over 45 CE dealers in more than 80 locations in the US and Canada, alongside over 20 forklift dealers in the region. Combined they provide coverage across the US, Canada and Mexico. Working closely in North America with Cummins, Perkins and ZF also enables LiuGong to deliver targeted solutions to their customers.
This reflects LiuGong's North American commitment to operating as a customer-centric business. They devote extensive time and energy to increasing access to parts and service via dedicated, local after-sales teams. There is particular emphasis on the localization of products and having local talent on board to relate effectively to customers' precise requirements. 
Li Dongchun attributes its North American success to LiuGong's 60-year legacy in the manufacturing of construction equipment; its capability to adjust to the demands of the market, along with the company's agility in contrasting times of economic down turn or high growth. 
He stresses; "LiuGong has one of the most expansive product lines of any Chinese manufacturer, these include; wheel loaders, excavators, bulldozers, motor graders, pavers, cold planers, skid steers, backhoe loaders, rollers, forklifts, truck-mounted cranes, crawler cranes, pipe layers, mining dump trucks and concrete equipment." 
The benefits of this extensive range of products are clear, as Li Dongchun is keen to explain: "Our overseas business has grown rapidly in the past decade. Its revenue now accounts for nearly 35 per cent of our total. We have more than 300 dealers in over 130 countries; all supported by 12 regional offices with adjacent parts depots. Our experiences in global expansion have helped us here."
With some of the toughest demands when it comes to technology, emission standards, safety and after-sales service support, LiuGong's North American subsidiary is well prepared for the local market due to the parent company's continued investment in R&D. Around 1,000 engineers work in LiuGong's global R&D center in China and in their four other world-class R&D facilities in India, Poland, the US and the UK.
As little as five months ago, Li's team unveiled its new Tier 4 Final H-Series wheel loaders and E-Series excavators to the North American market, in San Diego. The new machines feature cleaner engines, more efficient systems and ergonomic improvements that enhance the operator experience. They are more productive, responsive and easier to operate as a result.
Another significant advantage for LiuGong is their integration with Dressta's business in North America. Dressta now offers a full range of dozers that complement LiuGong product lines to cater for their customers' different needs. Last June, they introduced the new Dressta TD-8S and TD-9S Tier 4 Final hydrostatic dozers to the North American market. According to Li, the new S-Series dozers represent a real reinvigoration of the Dressta brand in North America. They are industry competitive machines satisfying today's high performance and operator standards, which boast all key features, technical and environmental requirements.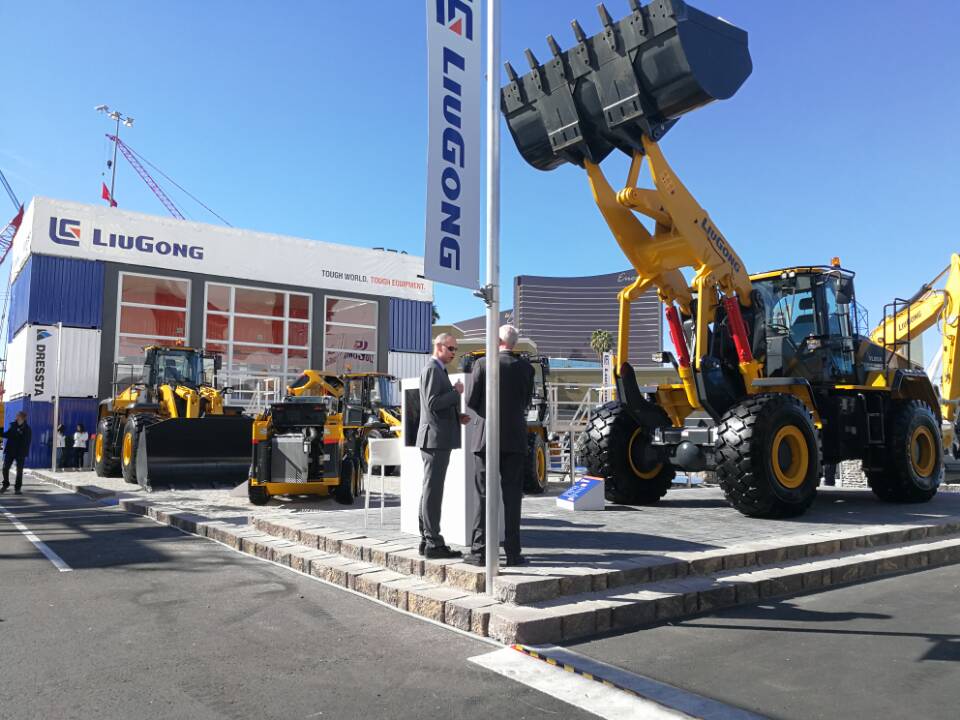 After nearly ten years, the company has gained ground in the US market, but Li thinks they still need to do more to remain competitive. To achieve this, he has outlined a very comprehensive and ambitious five-year development strategy. This new strategy will cover the expansion of product lines, value-added components, financing programs and inventory management, as well as building up the local team.
His team will continue to focus on the core business in earthmoving but with an expansive eye on the rental segment, site development/land improvement, highway construction and quarry/sand gravel segments.
"We are committed to North America; to localizing and focusing on the products and effectively serving our customers' needs. With reference to an enigmatic proverb, Li concludes that – "Doing business in an overseas market is like sharpening a sword. It takes commitment and dedication. We don't do one-off business here. Our aim is to build a well-respected company, not only here - but around the world."