15 July 2021, 11:30
HCE launches new a-series wheeled excavators
Hyundai Construction Equipment has unveiled a completely new line of A-Series wheeled excavators, powered by EU Stage V diesel engines. The four machines, with operating weights of 14-23 tonnes, feature low emission Cummins diesel engines with a combined after-treatment system and no requirement for EGR, offering customers increased productivity, with lower emissions. Read more >>
Volvo CE optimises and expands hybrid excavator range
With a 17 percent improvement in fuel efficiency over conventional machines, Volvo has introduced a completely new driveline for its revolutionary EC300E hybrid excavator - and implemented the technology in two new models in the 25- and 35-tonne classes. Read more (DE) >>
Liebherr T 274 – the new 305 t mining truck
Liebherr is extending its product offering with the T 274, a class-leading 305 t / 336 tons haul truck. This new truck bridges the gap between the highly successful T 284 (363 t / 400 tons) and the upgraded T 264 (240 t / 265 tons). Read more >>
Hyster® lithium-Ion lift trucks for 10-18 tonne loads
Hyster has announced its 10-18 tonne lift capacity trucks are now available with an electric drivetrain, helping businesses achieve zero-emissions objectives by making the switch to electric forklifts. Read more >>
Forstmaschinenprofi - Generation 36 | Pfanzelt presents the latest version of the Pm Trac
Generation 36 represents the new series of the Pm Trac system tractor. The design is almost unchanged, but there is a lot of new technology. Read more (DE) >>
New Cat® 980 and 982 series wheel loaders deliver premium performance, increased productivity and lower maintenance costs
New XE models with a parallel path continuous variable transmission (CVT) offer even higher fuel efficiencies and lower operating costs. Read more >>
Terex Utilities introduces Strongest Digger Derrick in the Transmission Market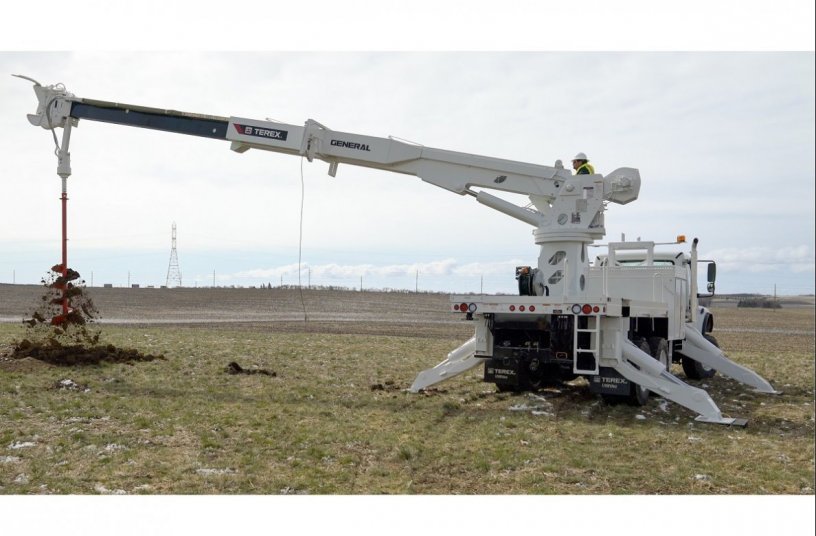 Terex Utilities introduces a new generation of the General 65 digger derrick for utility transmission applications during the virtual Electric Utility Fleet Managers Conference (EUFMC) in June. "The General 65 MAX boasts greater capacities through all boom angles, but especially in the work zone," said Joe Caywood, Director of Marketing. Read more >>
Leybold presents dry screw vacuum pumps DRYVAC DV 500 and DV 800
The new screw vacuum pumps DRYVAC DV 500 and DV 800 will be presented by Leybold in spring 2021. These vacuum pumps compress completely dry, i.e. without operating lubricant in the compression chamber and are therefore ideally suited as backing pumps in food packaging or in pumping sets in heat treatment or coating systems...Read more >>
OMMELIFT launches 15-meter articulated trailer lift with 230 kg basket load.
The new trailer-mount, type 1500 EX, has a working height of 1500 mm, and an outreach of 850 mm with a 230 kg basket load. The unfolding scissor system gives the lift an increased up and over outreach over high obstacles. Read more >>
Yale unveils high performance electric counterbalance truck with integrated lithium-ion battery
"At Yale, we are committed to developing industry-leading materials handling equipment that provides excellent productivity, ergonomics and low cost of ownership for our customers. The ERP70-90VNL is the first in a new range of high performing electric trucks for high intensity applications," said Ivor Wilkinson, Solutions Manager at Yale. Read more >>
New overload protection for LEMKEN ploughs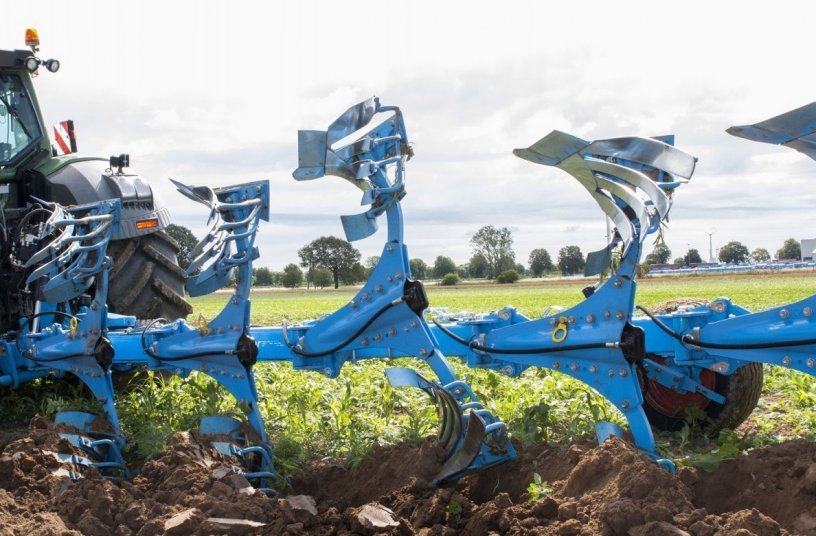 LEMKEN, the specialist for professional arable farming, launches the new OptiStone automatic overload protection for its Juwel, Diamant and Titan ploughs. At the heart of the OptiStone is a closed system of highly stable leg plates, which is reliably protected against dirt and foreign objects. Read more >>
Potain presents the new Igo T 99 self-erecting crane
The Potain Igo T 99 is a versatile telescopic fast erecting crane with a lifting capacity of 6 t and an outreach of 48 m. Thanks to its hook height of 38.5 m, this crane is ideal for a whole range of operating conditions. Read more (DE) >>
SCHMOTZER revolutionises the chipper market with the Venterra 2K series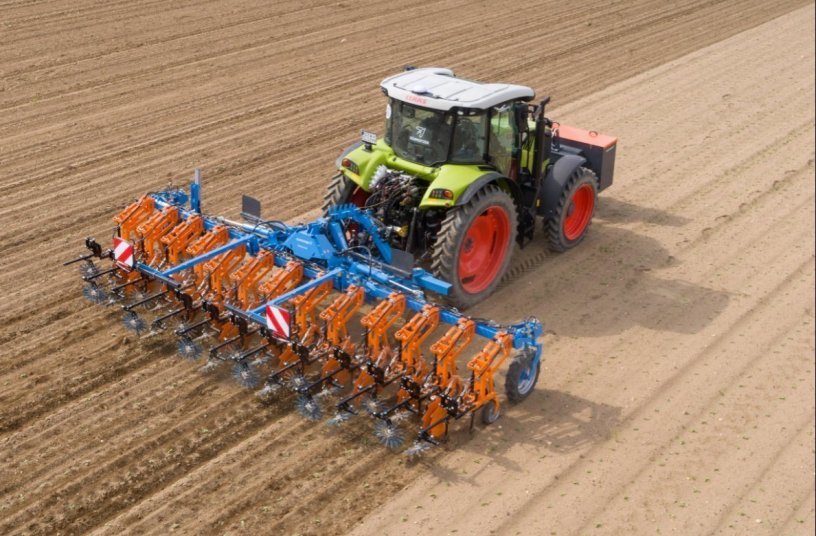 Since the takeover by the AMAZONE Group, SCHMOTZER Hacktechnik has been able to further optimise the development of machines for mechanical weed control. With almost 100 years of experience in the product coupled with innovative and flexible solutions, SCHMOTZER is now opening up a revolution in the hoeing technology market - the Venterra 2K series. Read more (DE) >>
CTE presents MP 24 C: a new Multipurpose is born, even more compact!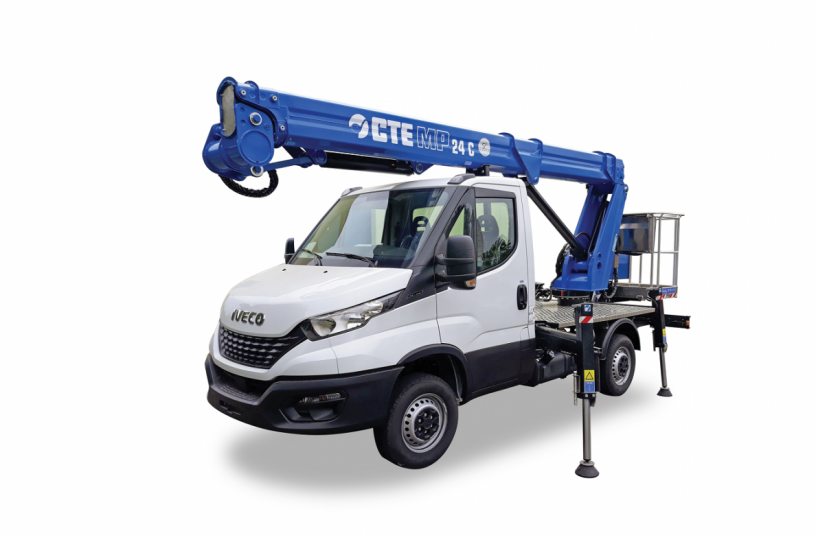 The CTE Multipurpose range is now strengthened  with a new model: after the presentation in 2017 of the MP 32.19 on a 7.5 ton truck, the time has come to offer the market a platform with smaller dimensions but with the same versatility of the MP range. Read more >>
New Holland powers up its compact tractor offering with launch of Stage V Boomer range
New Holland Agriculture has launched the new Stage V-compliant Boomer tractor range, which packs a bigger performance while maintaining its compact size. New features further improve the tractors' efficiency and operator comfort. Read more >>
Konecranes launches new generation of energy-efficient mobile harbor cranes as global trade accelerates
Konecranes today launched its sixth generation of mobile harbor cranes, refreshing and reinforcing its industry-leading portfolio as global trade accelerates and the industry seeks more sustainable lifting solutions to reduce its climate impact. Read more >>
Goldhofer presents the new Goldhofer P12 PLUS Highway semitrailer.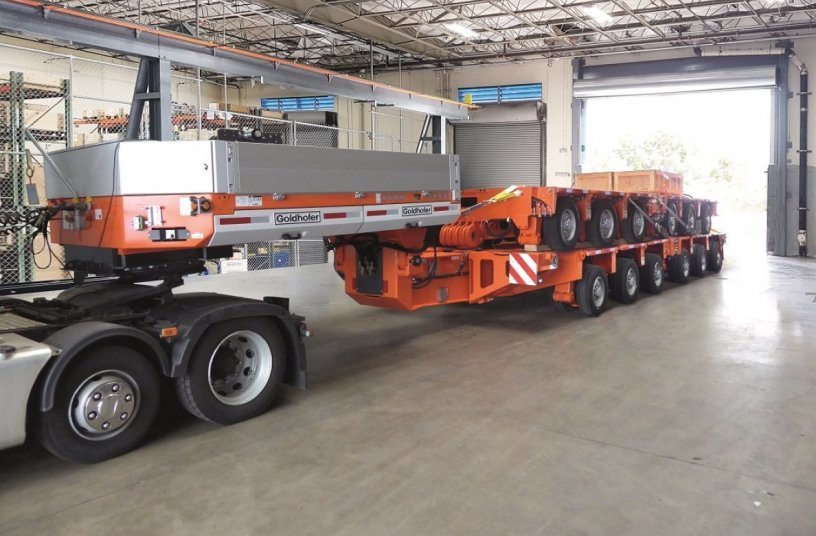 Heavy-duty transportation operations in North America will be easier, faster and more cost-effective. Goldhofer has once again expanded its range of products with a unique product for the needs of the North American market – with the new Goldhofer P12 PLUS. Read more >>
A safe and automatic machine hitch now available for smaller excavators - Latest innovation from Engcon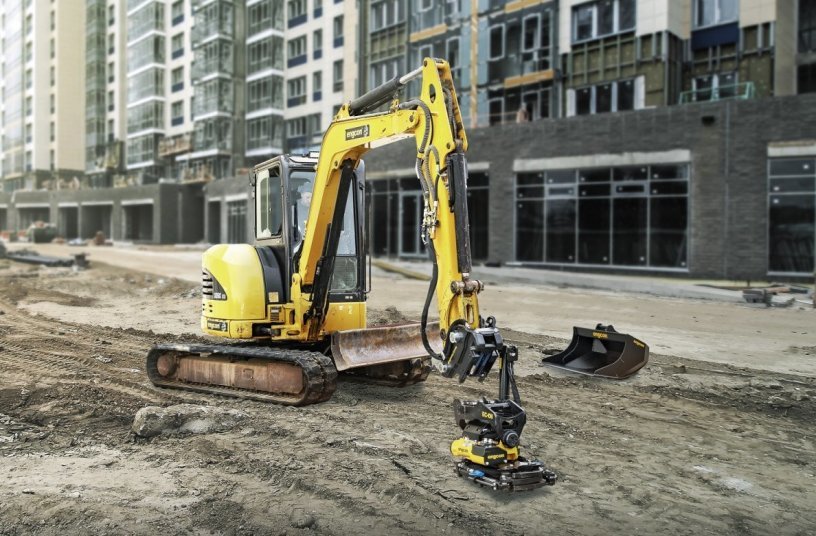 Engcon, the world-leading manufacturer of tiltrotators, has been known in recent years for excavators in the weight class over 6 tonnes, enabling the coupling of hydraulic tools without the operator having to leave the cab. Engcon is continually improving the flexibility, efficiency and safety even for smaller excavators. Read more >>
Husqvarna Construction launches the next generation of cordless cut-off machines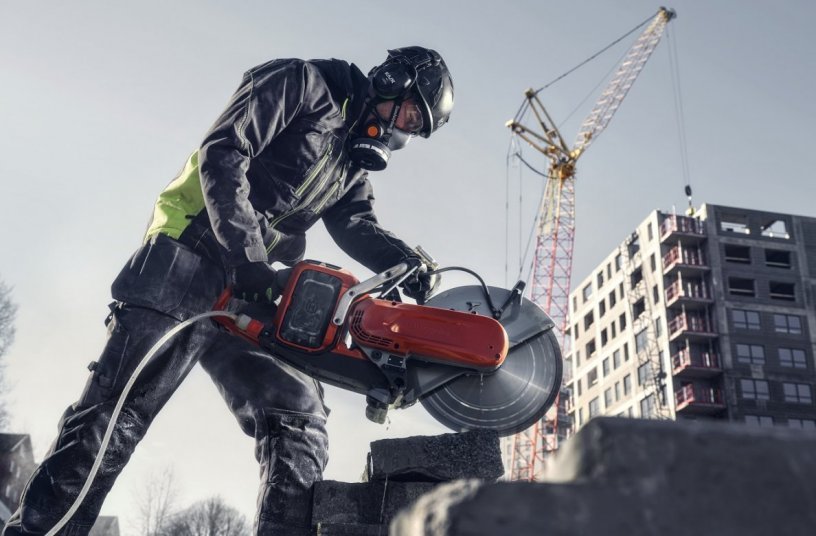 With K1 PACE, Husqvarna is taking a big step into the future by offering its customers a powerful cordless cut-off machine that can handle tough jobs. It is the first product to be launched with the company's new PACE battery system. Read more (DE) >>
Green power for goods handling
The new Linde X20 - X35 electric forklift models in the 2.0 to 3.5 tonne payload range achieve the performance and robustness of Linde hydrostats for the first time and combine this with the environmental benefits of battery operation. Read more (DE) >>
A new spider lift in the CTE TRACCESS range is born: the tallest of the family, this is TRACCESS 270
Marco Govoni, CTE Sales Director, says: "It is with great satisfaction that on behalf of the whole CTE Team I welcome TRACCESS 270 , opening doors to a new generation of TRACCESS which, among other things, includes our amazing S3 EVO technology, already in use on our truck mounted platforms. Read more >>
A successful start in a new class - SANY's new SY305C
SANY is taking off in a whole new class. With the SY305C, the company is launching a crawler excavator that not only meets but exceeds European demands and requirements. Read more (DE) >>
New hydraulic overload protection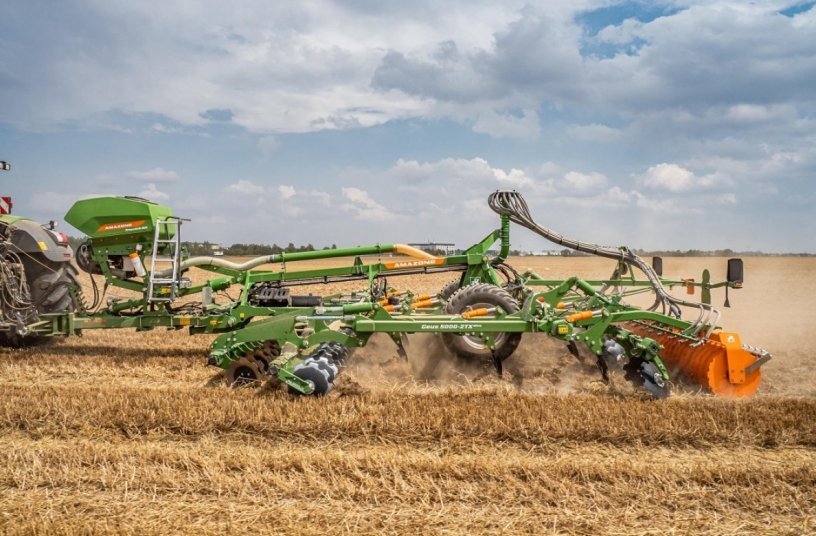 Amazone has extended the build options on its Cenius-2TX trailed cultivator models, in working widths of 4 to 8 m, and the Ceus-2TX trailed disc & tine combination cultivators, which are available in working widths from 4 to 7 m, with the addition of the new C-Mix Ultra tine. Read more >>
Behind the scenes: developing the new Potain MDT 489
Manitowoc has launched the new Potain MDT 489 – a 450 mt topless tower crane that is quick and easy to erect. In this article, we look behind the scenes into the build-up of bringing this exciting crane to life and how Manitowoc's Voice of the Customer process facilitated this. Read more >>
HELLA launches new S series worklights on the market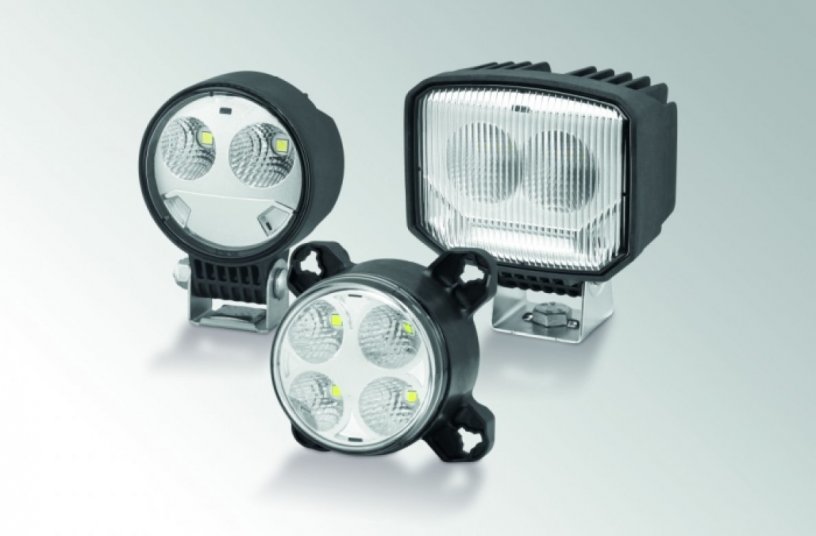 The internationally positioned automotive supplier HELLA is launching a new worklight series for agricultural machinery, construction machinery, forklifts, trucks and trailers as well as municipal vehicles. The S series complements the existing Modul 70, Modul 90 and Power Beam worklight families. Read more (DE) >>
Doosan Unveils New DX225LC-7 Crawler Excavator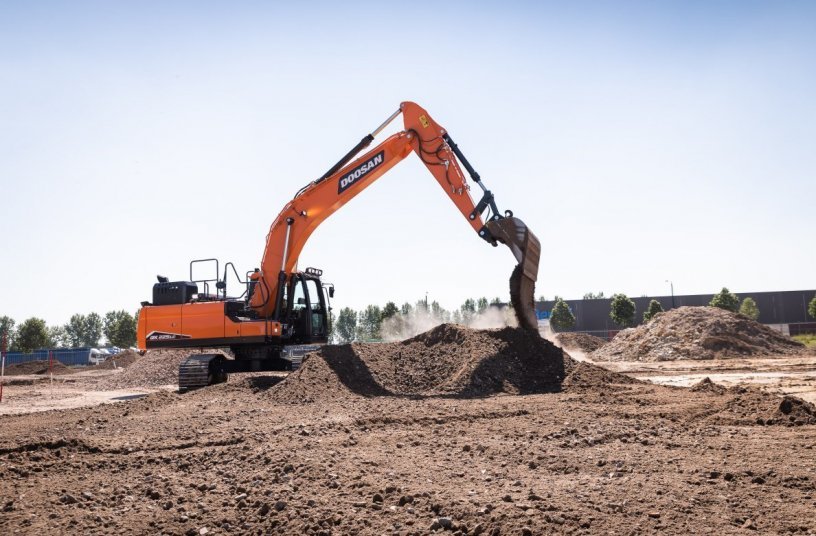 Doosan has launched the first of the company's new generation medium-sized Stage V compliant excavators - the new DX225LC-7 23 tonne crawler model. The DX225LC-7 is also the first Doosan excavator of this size to feature Doosan's innovative D-ECOPOWER...Read more >>
A160S: the compact power of the new Carer electric truck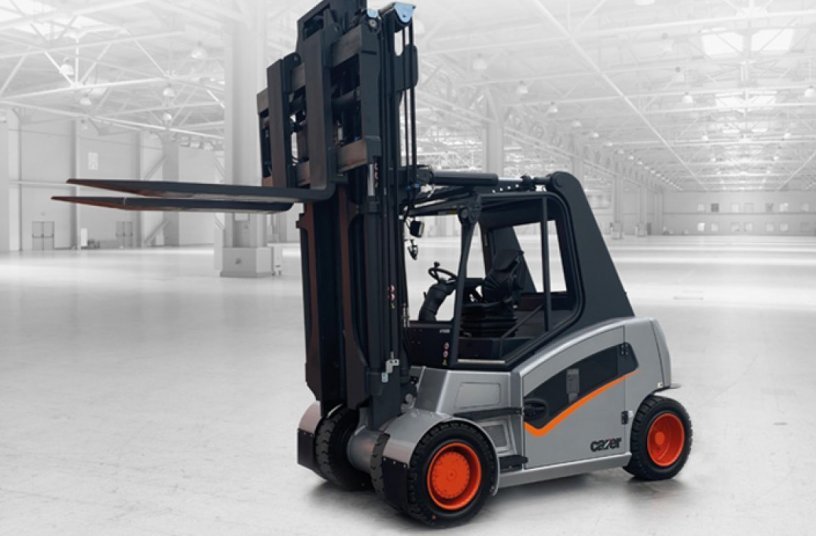 The A160S is in fact the first electric truck in the world with 16-ton capacities of the same size as the 8-ton machines and stands out in the panorama of material handling for its design, size, visibility, performance and autonomy. Read more >>
SCHEUERLE expands platform vehicle series through the K25 L: top stability and safety for loads with a high centre of gravity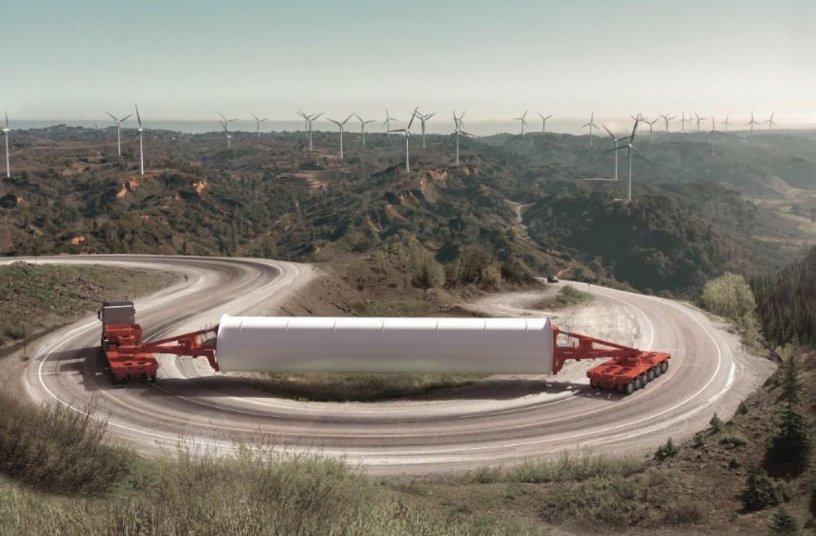 When developing the new modular K25 L platform vehicle, SCHEUERLE focused on the transport safety aspect of loads with a high centre of gravity. A relevant requirement especially regarding the future-proof transport of components for increasingly more powerful wind turbines. Read more >>
New generation Cat wheel loaders in the 30 to 36 tonne class
Die Cat Radlader der neuen Generation basieren auf einer Technologieplattform, die die Maschinenleistung steigert und die Betriebseffizienz verbessert. In der Klasse 30 bis 36 Tonnen Einsatzgewicht bieten Cat 980 und Cat 982 einen signifikanten Effizienzgewinn. Read more (DE) >>
Carer A70X: a prodigy of compactness and versatility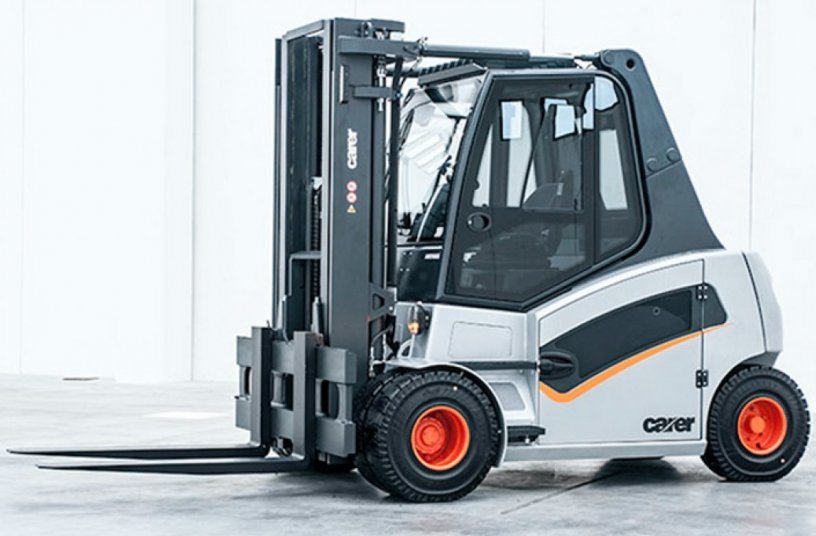 The new born in Carer home responds to the need to have a 7 ton electric truck with the same aesthetic and performance characteristics that have made the success of the superior models of the A series. The result is an electric truck that amazes for its easy handling and the versatility of its uses. Read more >>
The new MX20-G inspires in the test
With the new MX20-G, HYDREMA has entered the heavy wheeled excavator class, offering the most compact machine on the market. "In order to fully exploit and control the forces of these powerful yet extremely compact machines, we have always equipped the MX20-G with a blade and claw support. Read more (DE) >>
JUMBO new: Two steps ahead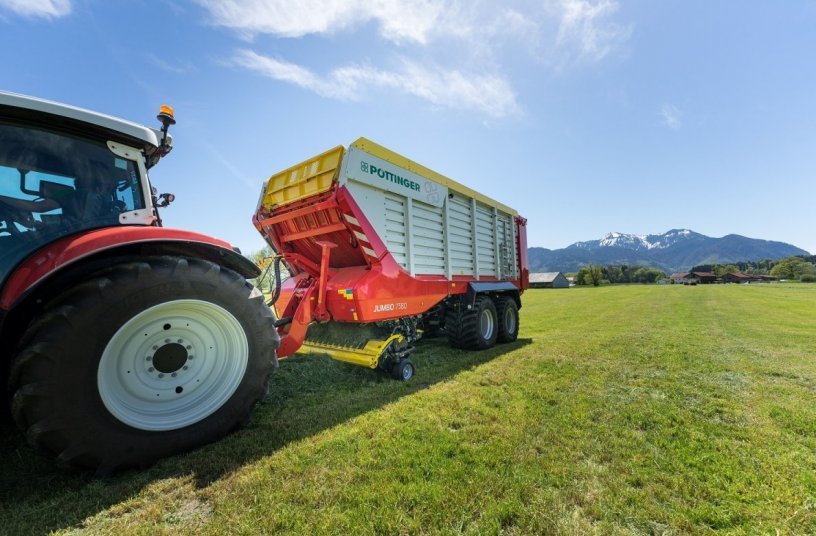 Pöttinger, the world market leader in loader wagons, has achieved great things with its flagship: The new JUMBO 7000 has been designed for maximum power and maximum efficiency. All core components have been completely redesigned for a maximum tractor output of 500 hp. Read more (DE) >>
IceTiger - More precision in winter maintenance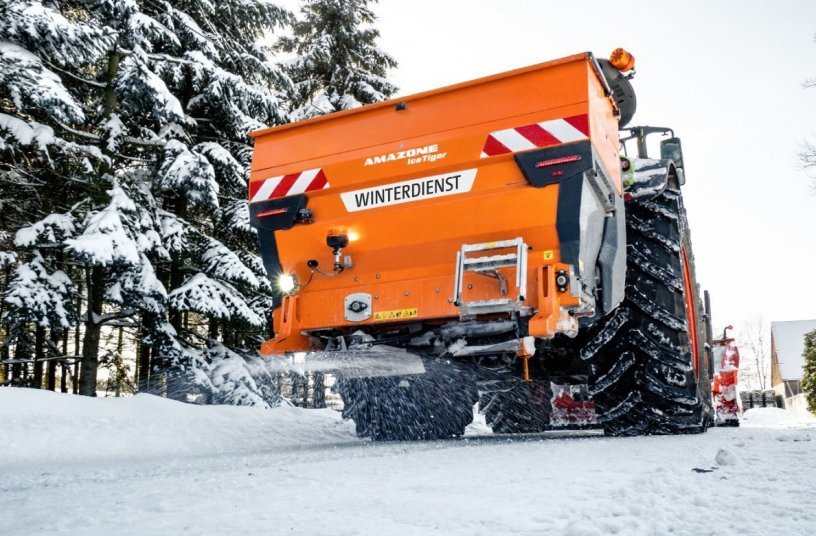 Amazone now offers with the completely newly developed IceTiger an innovative mounted spreader for salt and brine application with highest precision. The new conveyor technology via a belt floor allows the spreading of salts with different moisture contents, even in very small quantities, as well as gritting materials such as grit or sand. Read more (DE) >>
Source: LECTURA Verlag GmbH