11 May 2021, 16:22
The brand-new SM-11 is a medium sized drilling rig, it is the 2021 addition to the Soilmec SM fleet of rigs for Micropile and Tieback applications. Very high feeding force, easy to set for different working needs with a perfect combination of performance and efficiency and a compact design for limited-access job sites.
Thanks to its design it can be easily configured in different single rotary fittings, double rotary and top- hammer to carry out consolidation, micropiles and anchors with different drilling technologies. With an operating weight of 11 tons the rig is assembled on steel crawler track with ±10° tilting gauge complete with 2 ground stabilizers fixed on rear to give an increased stability on any soil formation. Moreover, the rig can be fit on demand with a fixed type undercarriage with 2 ground stabilizers pivoting on front and 2 fixed on rear. At SM-11 heart lies a Cummins F 3.8 Diesel engine generates 115 kW (154 HP) boasting high performance and low emissions in addition to extreme ease of maintenance. The engine is equipped with low-idle system being able therefore to automatically adjust the speed according to the actual needs. The decision to fit the SM-11 with a large Diesel engine allows the drilling rig to utilize and exploit the largest double head and the Top hammer configurations. The hydraulic flow is managed by the Full-Load Sensing control system which helps in reducing the operating costs and increasing the components' life by smartly managing the power demand. The SM-11 combines the front of the wall joint and telescopic boom kinematics which allow the machine to drill on the side of the tracks and reaching extreme and confined spaces easily and rapidly.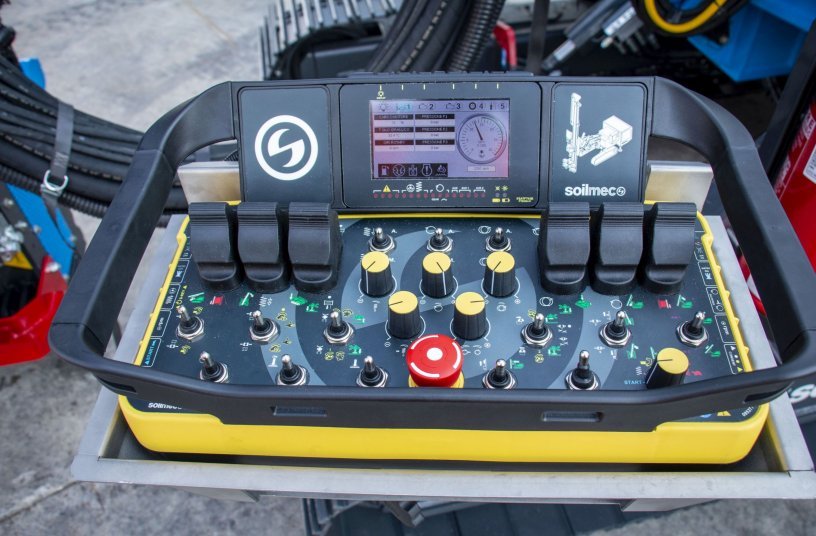 The SM-11 comes with hydraulic openable cages, additional trip wires devices, emergency stop buttons and ROM and SPM operation modes to ensure the highest level of accessibility, visibility, and safety in compliance with the latest international standards. Moreover, is possible to set the rig with the new carousel loading system capable of handling up to 5 rods. To ensure smooth operations and enhanced safety the SM-11 can be equipped with the new hydraulic/proportional panel on pivotal support arm, with controls clearly laid out and located within easy reach, or with a full radio remote control. The rig is fitted with the DMS on Board. The LCD display set on the side of the base machine is used for monitoring and downloading the rig parameters and remotely connecting to the rig. The SM-11 work with a wide range of rotary heads up to 32kNm (23,602 lb ft) torque, jet grouting treatment of 12,5m (41 ft) depth and a feed system able to transfer up 96 kN (21581 lbf) and to reach a rotary cradle speed of 48 m/min (157.5 ft/min). The rig is equipped with clamp & breaker with a nominal size of 50 - 320 mm (2.0 - 12.6 in) or on demand of 60-415 mm (2.36 - 16.34 in). The SM-11 is a modern machine designed with a special attention to detail, such as the new hydraulic hoses that grants no-interference with undercarriage and ground ensuring therefore a longer life of the parts, and an ideal choice for inner-city job sites due to its size, flexibility, power & performance environmental concerns and operator comfort.
Source: TREVI - Finanziaria Industriale S.p.A.